Publication:
La percepción del cortometraje en España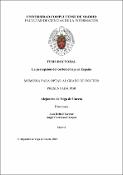 Files
Authors
Editors
Publisher
Universidad Complutense de Madrid
Abstract
En esta investigación hemos abordado como objeto de estudio un tema poco analizado desde la metodología científica, la percepción del cortometraje en España. En nuestro caso, nos hemos centrado en los agentes que intervienen en su creación y exhibición. El cortometraje es importante tanto a nivel artístico como educativo. Es el primer paso para muchos cineastas y, además, forma parte fundamental de los planes de estudio en las universidades y escuelas de cine de nuestro país. La relación de los cineastas con el cortometraje es diversa: algunos lo utilizan como medio para llegar al largometraje mientras otras lo mantienen como un formato relevante a lo largo de toda su trayectoria profesional. Para comprender la percepción del cortometraje hemos creado tres grupos de estudio. Por un lado, tenemos a los creadores para los que hemos realizado una entrevista en profundidad a cuarenta directores, guionistas y productores de cortometrajes. Ellos son los agentes que se encargan de llevar a cabo las obras y son sus máximos responsables. Para poder abarcar la máxima variedad profesional posible creamos cuatros subgrupos: cortometrajistas, creadores consagrados que vuelven al cortometraje, creadores consagrados que abandonan el cortometraje y jóvenes creadores. Por otro lado, hemos diseñado una encuesta para los estudiantes de Comunicación Audiovisual y/o de Cine, tanto de centros públicos como privados. Estos son creadores también de innumerables obras cada año y son el presente y futuro del cortometraje en España. De estos obtuvimos 741 respuestas de las principales escuelas de cine y universidades de España...
In this research we have approached as an object of study a subject that has been little analysed from the point of view of scientific methodology: the perception of short films in Spain. In our case, we have focused on the agents involved in its creation and exhibition.The short film is important in both artistic and educational levels. It is the first step for many film-makers and it also takes a crucial part in our country's film universities and schools' curriculum. The relationship between the short film and the film-makers is diverse: some of them use it as a way to get to the long film while others keep it as a meaningful format all along their career.In order to understand the short film perception, we have created three different groups of study. On one hand, we have the creators. For this group we deeply interviewed forty short films directors, scriptwriters and producers. They are the agents in charge of the work and take all the responsibility for it. With a view to include the widest professional variety we could, we created four subgroups: short film makers, renowned creator that come back to the short film, renowned creator that quit the short film and young creators.On the other hand, we created a questionnaire for the Audiovisual Communication and/or Film students, from both public and private schools. They are also the creators of countless works each year and they are the present and future of the short film in Spain. We got 741 students' answers from the main film schools and universities in Spain...
Description
Tesis inédita de la Universidad Complutense de Madrid, Facultad de Ciencias de la Información, leída el 01-03-2022
Collections