Publication:
A mathematical tool to analyze radially symmetrical organisms and its application to a new camerate from Upper Ordovician of South Western Spain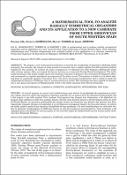 Advisors (or tutors)
Editors
Publisher
Université de Lyon. Département des sciences de la terre
Abstract
We propose a new mathematical technique to describe the morphology of organisms exhibiting radial symmetry. For example, the calyxes of some primitive camerates have a highly regular five-fold symmetry pattern suitable for this analysis. To analyze the plate arrangement, we digitalize the plate diagram codifying the plates with a binary system. After, we expand this binary function as a truncated Fourier-Bessel development. The multimodal structure of the mimic images shows the nonlinear character of patterns. The truncated developments obtained correspond to a regular pentagonal arrangement of five plane waves. This pattern is stable as it is shown starting from an amplitude equation of gradient form. The above mentioned morphometric tool is useful to study the morphological disparity of different taxa in macroevolutionary trends. This technique has been applied to characterize a new genus and species of Rhodocrinitids which is the oldest camerate from Iberian Peninsula.
Ce travail propose un nouvel outil mathématique pour décrire la morphologie des organismes á symétrie radiale. Ainsi les calices des quelques camérates primitifs ont un patron eleve de symmétrie pentamadrée tout a fait propice a une telle analyse. Pour analyser l'arrangement des plaques leur diagramme a été digitalisé, les plaques etant codifiées a l'aide d'un systeme binaire. Ensuite cette fonction binaire a ete developpée selon une serie de Fourier-Bessel. La structure multimodale des images atteste du charactère non linéaire des patrons. Les developpements tronqués obtenus correspondent a un arrangement pentagonal regulier de cinq ondes planes. Le patron est stable, etabli a partir d'une équation d'amplitude de type gradiente. Cet outil mathematique est utile pour etudier la disparité morphologique de differents taxons au sein des tendances macroevolutives. Cette technique a été appliquée pour caractériser un nouveau genre et une nouvelle espece de rhodocrinitide qui est le plus ancien camérate de la Péninsule Ibérique.
Collections