Publication:
Diseño e implementación de herramientas Grid basadas en WSRF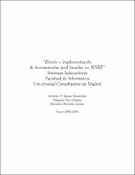 Advisors (or tutors)
Editors
Abstract
El objetivo de este proyecto ha sido el desarrollo de una aplicación que permitiese acceder al middleware de Glosbus. Este software debe servir de puente entre el middleware y GridWay, que es una aplicación diseñada para obtener mejor rendimiento al enviar trabajos a un conjunto de recursos grid dinámicos. El motivo para implementar esta aplicación es la nueva implementación de C del toolkit lanzada el 30 de abril de 2005. Antes de comenzar a hablar de la aplicación hay que introducir al lector a toda una serie de conceptos sobre computación grid, Web Services y globus. Algunos ejemplos son XML, mensajes SOAP, OGSA, Stateful Web Services, WSRF,... [ABSTRACT] The objetive of this project has bee the development of an application to access Globus middleware. This application must be the bridge between the middleware and GridWay, an application designed to obtain the best performance from a set of dynamic grid resources. The motivation to do this,it's the brand nes C implementation of the toolkit that Globus released on April 30 2005. Before we start with this subject, we have to introduce the reader to all the new concept around grid computing, Web Services and Globus. Some of them are XLM, SOAP messages, OGSA, stateful Web Services,WSRF,...
Description
Trabajo de clase de la asignatura Sistemas Informáticos (Facultad de Informática, Curso 2004-2005)
Collections