Publication:
Aportaciones de las universidades españolas a la investigación sobre menores y medios de comunicación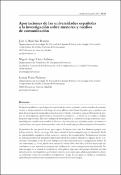 Advisors (or tutors)
Editors
Publisher
Universitat Autònoma de Barcelona: Facultat de Ciencies de la Comunicació
Abstract
El interés académico español por la relación de los niños y jóvenes con los medios de comunicación se ha incrementado a lo largo de estos últimos años hasta tal punto que constituye una línea de investigación destacada en muchas universidades. Asistimos a una proliferación de grupos de investigación, observatorios, laboratorios, institutos… a través de los cuales se logran dar pasos importantes. De estos trabajos de investigación se extraen frutos que aumentan exponencialmente cuando esos estudios se llevan a cabo en redes que permiten poner en contacto a centros hasta hace poco desconectados entre sí, de modo que puedan compartir información.Si partimos de este punto fuerte que supone la interacción entre los distintos grupos, este trabajo trata de ofrecer un mapa del estado actual de la investigación que se desarrolla desde las universidades españolas sobre menores y medios de comunicación. Pretendemos mostrar las principales líneas de actuación impulsadas desde los centros educativos, algunas de las conclusiones obtenidas a raíz de estos trabajos, así como las tendencias y perspectivas futuras de este interesante y, a la vez, ambiciosos campo de estudio. Por otro lado, el déficit mayor que encontramos es que nuestras investigaciones adolecen de escaso componente internacional. No tanto porque no se aborde la situación de otros países, sino más bien porque deberían ser más numerosos los investigadores que formen parte de consorcios que, además, permitan la solvencia suficiente como para establecer comparativas y hojas de ruta para los medios y normativas aplicables por instituciones supranacionales como la Unión Europea.
In the last years, the Spanish educational interest for the relationship between children and media has increased up to the point that this topic constitutes one of the main research lines of the universities in our territory. We find a development of the groups, observatories, laboratories and institutes from which works are obtained results that increase exponentially when those investigations are carried out in networks that allow organizations, until recently with no connection, to bring in contact with each other as well as share information with each other. Assuming how strong the interaction between the groups is, this work intends to offer a map of the research current status on children and the media at the Spanish universities, aiming to establish which are the main research lines of the centres, conclusions they have been reaching through their works and the trends and future perspectives of this interesting and wide field of study. Among the weak points, we conclude that Spanish studies still suffer from a lack of international dimension, which is not due to the fact that researchers don't investigate about the situation of other countries, but because few of them take part in consortiums that allow to count on enough solvency to establish comparatives and roadmaps for the media and applicable regulations from supranational institutions, as European Union.
Collections