Publication:
Propuesta de conservación - restauración: Talla policromada de Santa Águeda en el Museo de la Trinidad (Alcaraz)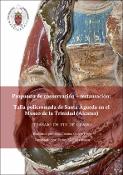 Authors
Advisors (or tutors)
Editors
Abstract
El presente Trabajo Fin de Grado desarrolla una propuesta de conservación-restauración para la talla gótica policromada de Santa Águeda que se expone en el museo local del municipio de Alcaraz (Albacete). Para su desarrollo, se ha llevado a cabo un estudio del estado de conservación de la pieza y, a raíz de los resultados obtenidos, se ha conseguido definir una propuesta de intervención basada principalmente en el criterio de mínima intervención, y en la importancia de la reversibilidad de los tratamientos a llevar a cabo, de tal forma que siempre se respete la obra y su valor histórico-artístico y documental. De igual manera, se ha elaborado un protocolo de actuación con diversas recomendaciones y medidas de conservación preventiva, de tal forma que su puesta en práctica consiga la preservación del bien en el tiempo.
The following End of Grade Work develops a conservation-restoration proposal for the gothic polychrome carving of Saint Agatha, which is exhibited in the local museum of Alcaraz (Albacete). For its development, a study of the conservation status of the artwork has been carried out and, with the achieved results, it has been possible to define a proposal for its intervention mainly based on the standard of minimum intervention, and on the importance of the reversibility of the treatments, in order to respect the work and its historical-artistic and documentary value. Similarly, a protocol has been developed with various recommendations and preventive conservation measures, so that it could be possible to achieve the preservation of the work over time.