Publication:
Las relaciones públicas de los despachos de abogados: análisis de la comunicación de los bufetes en España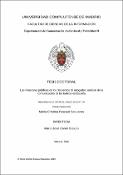 Files
Authors
Advisors (or tutors)
Editors
Publisher
Universidad Complutense de Madrid
Abstract
El objetivo general de esta tesis es analizar si la corporativización de la profesión de la abogacía en España ha ido acompañada de una profesionalización de la misma en el ámbito de la comunicación. Para ello, esta investigación parte de una revisión conceptual sobre conceptos y principios sobre las relaciones públicas aplicables al análisis de la comunicación en los despachos de abogados, tras la cual se realiza una observación empírica que parte de la hipótesis de que, en la medida en que la profesión de la abogacía en España ha evolucionado hacia la corporativización, y la competencia entre las "corporaciones" (los despachos de abogados) ha crecido exponencialmente, es razonable esperar que su comunicación también haya ido adoptando prácticas más profesionales, en línea con la evolución de la comunicación corporativa...
The main objective of this thesis is to analyze whether the corporatism of the legal profession has taken place along its professionalization in the communication environment. In order to undertake such analysis, this research starts by a conceptual review of the concepts and principles applicable in the public relationships within the communication analysis in law firms. After this initial review, an experimental observation has been done, assuming that as the law profession in Spain has evolved towards corporatism and competition between "corporates" (law firms), it is expected that its communication divisions have also adopted more professional and sophisticated skills, in line with the corporate communication evolution...
Description
Tesis inédita de la Universidad Complutense de Madrid, Facultad de Ciencias de la Información, Departamento de Comunicación Audiovisual y Publicidad II, leída el 01-12-2015
Collections