Publication:
Heroínas o princesas: análisis de la evolución de los personajes de la marca "Princesas Disney" desde su posible superación de los estereotipos sexistas, dentro y fuera de la ficción animada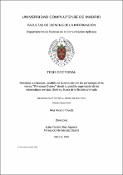 Files
Authors
Advisors (or tutors)
Editors
Publisher
Universidad Complutense de Madrid
Abstract
La construcción de los personajes femeninos en el cine ha sido objeto de debate en distintas perspectivas académicas. En esta investigación, desde la mirada de los estudios de género y de la alfabetización audiovisual, intentamos acercar al lector a las protagonistas animadas que se presentan al público infantil, centrándonos en el estudio de las heroínas creadas por los estudios Disney y su presentación tanto en las películas que protagonizan como en los distintos departamentos de la multinacional. Nuestro objetivo es analizar estas heroínas para descubrir si la compañía Disney ha conseguido con el paso de los años construir heroínas modernas capaces de representar al público femenino actual, es decir, si realmente existe una evolución positiva de las heroínas Disney hacia personajes más complejos que se alejen de los estereotipos de género que representan las primeras protagonistas del cine de animación.En 1937, con el estreno de Blancanieves y los siete enanitos, el estudio de animación logró situar a la mujer como protagonista de los nuevos relatos infantiles, en un sector hasta entonces protagonizado casi exclusivamente por personajes masculinos. A partir de esta fecha, han sido varios los personajes principales femeninos del cine de animación, dieciséis creadas por los estudios de Disney. Dentro de este corpus de estudio, centramos el análisis en las llamadas Princesas Disney, concepto creado por Andy Mooney en 2001 que engloba a distintos personajes femeninos de los estudios con forma humana y ciertas características físicas. Como se explica a lo largo de esta tesis doctoral, la franquicia Princesas Disney aúna a personajes femeninos de distintas épocas de creación bajo una misma marca que vende todo tipo de productos de consumo a mujeres y niñas...
The construction of female characters in cinema has been debated from different academic perspectives. From a gender perspective and based on audiovisual literacy, this study aims to bring the reader closer to the female characters in children´s animation films, by studying the heroins created by Disney Studios as well as their presentation both in the movies they star and the different departments of the multinational. Our goal is to analyze these heroines to discover if the Disney Company has achieved over the years to build heroines capable of representing the female audience, that is, if there really is a positive evolution of the Disney heroines towards more complex characters who would be away from the gender stereotypes that represent the first protagonists of animation cinema. In 1937, with the premiere of Snow White and the Seven Dwarfs, the animation Studio managed to place a woman as main character of the new children's stories, in an industry almost exclusively played by male characters. As of this date, there have been several main female characters in animation films, sixteen created by Disney Studios. Within this corpus of study, we focus our analysis on the so-called Disney Princesses, a concept created by Andy Mooney in 2001 that encompasses different female characters of studies with human form and certain physical characteristics. As explained throughout this doctoral thesis, the Disney Princesses franchise brings together female characters from different eras under the same brand that sells all kinds of consumer products to women and girls...
Description
Tesis de la Universidad Complutense de Madrid, Facultad de Ciencias de la Información, Departamento de Ciencias de la Comunicación Aplicada, leída el 16/07/2018
Collections