Publication:
Diseño y evaluación de estrategias vacunales frente a la leishmaniosis visceral y cutánea: optimización del candidato poliantigénico HisAK70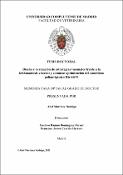 Files
Authors
Advisors (or tutors)
Editors
Publisher
Universidad Complutense de Madrid
Abstract
La leishmaniosis es una enfermedad parasitaria causada por diferentes especies de protozoos incluidos en el género Leishmania. Está catalogada como una enfermedad tropical desatendida, presentándose en distintas regiones de la Cuenca Mediterránea y Oriente Medio, así como en países que se encuentran en áreas tropicales y subtropicales. En los seres humanos existen diferentes cuadros clínicos, dependiendo de la especie de Leishmania implicada. Su sintomatología varía desde la aparición de lesiones locales, leishmaniosis cutánea (CL) y mucocutánea (MCL), hasta la afectación sistémica, leishmaniosis visceral (VL), e incluso la muerte del paciente en ausencia de un tratamiento adecuado. Cabe destacar que el perro es el principal reservorio de L. infantum, organismo causante de la VL zoonótica humana, lo que lo convierte en un importante agente epidemiológico...
Leishmaniosis is a parasitic disease caused by different species of protozoa included in the genus Leishmania. It is classified as a neglected tropical disease, with incidence in different regions of the Mediterranean Basin and the Middle East, as well as in tropical and subtropical areas. In humans there are different clinical manifestation, depending on the Leishmania species involved, ranging from the appearance of local lesions, cutaneous leishmaniasis (CL) and mucocutaneous (MCL), to systemic involvement, visceral leishmaniasis (VL), and even death in the absence of adequate treatment. It should be noted that dogs are the main reservoir of L. infantum, the causal agent of human zoonotic VL, making it an important epidemiological agent...
Description
Tesis inédita de la Universidad Complutense de Madrid, Facultad de Veterinaria, Departamento de Sanidad Animal, leída el 28-01-2021
Collections