Publication:
Vida tendencial y conocimiento afectivo de valores. Un ensayo fenomenológico a partir de Max Scheler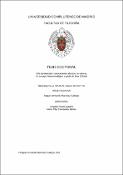 Files
Advisors (or tutors)
Editors
Publisher
Universidad Complutense de Madrid
Abstract
Max Scheler llevó a cabo en su obra mayor, El formalismo en la ética y la ética material de los valores (1913/1916), una decisiva y muy original ampliación de la ontología tradicional a través de su fenomenología del valor y de la correspondiente teoría de la vida afectiva como órgano de aprehensión intencional de valores. Es bien sabido que Scheler acometió, desde este nuevo punto de vista, una fundamentación de la ética basada en la noción fenomenológica de valor, en dirección a una peculiar forma de personalismo ético. Pero no solo las ideas de valor y de persona reciben un tratamiento radicalmente novedoso en la filosofía de Scheler, sino también la idea de "vida" en sentido biológico. Su concepción de lo vital, pensada igualmente desde el valor, es crucial tanto para la elucidación del ser vivo como para la del ser humano, ya que la persona humana posee, como reconoce Scheler, una imprescindible dimensión vital...
In his major work, Der Formalismus in der Ethik und die materiale Wertethik (1913/1916), Max Scheler broke the boundaries of traditional ontology by introducing a most original phenomenology of value and the corresponding theory of emotional life as an organ for the intentional apprehension of values. It is well known that Scheler accomplished, from this new point of view, a foundation of ethics based on the phenomenological notion of value, resulting in a peculiar form of ethical personalism. Not only are the ideas of value and person radically reinterpreted in Scheler's philosophy; the same happens with the concept of "life" in its biological sense. Scheler's conception of the vital is crucial for the elucidation of living being, but also of human being, since the human person, as Scheler acknowledges, has a vital dimension...
Description
Tesis inédita de la Universidad Complutense de Madrid, Facultad de Filosofía, leída el 25/11/2020
Collections