Publication:
La descentralización productiva en las Administraciones Públicas y garantía de los derechos de los trabajadores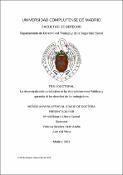 Files
Authors
Advisors (or tutors)
Editors
Publisher
Universidad Complutense de Madrid
Abstract
La Administración Pública puede gestionar sus competencias de forma directa o indirecta. Cuál sea el modelo de gestión forma parte de su libertad organizativa, si bien hay determinadas competencias que resultan indelegables y, por tanto, ciertos límites que la obligan a contar con sus propios medios para su ejercicio. El resto, se podrán encomendar a terceros, lo que le permitirá disponer de recursos humanos y materiales ajenos que serán puestos a su disposición por las empresas contratistas o subcontratistas. La incidencia que la contrata o subcontrata pública ejerce sobre el tejido productivo y su repercusión en el mercado, explica la fuerte influencia que ejercen las Directivas de contratación pública como mecanismo que contribuye a hacer efectiva la libre circulación de mercancías, servicios, personas y capitales...
The Public Administration can manage its competences directly or indirectly. Whichever management model is used is part of its organizational freedom, although there are certain competencies that cannot be delegated and, therefore, certain limits that oblige it to have its own means for their exercise. The rest may be entrusted to third parties, which will allow it to have at its disposal human and material resources that will be placed at its disposal by the contractors or subcontractors.The impact that public contracts or subcontracts have on the productive fabric and their repercussion on the market explains the strong influence of the public procurement Directives as a mechanism that contributes to making the free movement of goods, services, persons and capital effective..
Description
Tesis inédita de la Universidad Complutense de Madrid, Facultad de Derecho, Departamento de Derecho del Trabajo y de la Seguridad Social, leída el 18-02-2022. Tesis retirada por expreso deseo de la autora.
Collections