Publication:
Application of real-time PCR for tree nut allergen detection in processed foods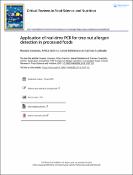 Advisors (or tutors)
Editors
Abstract
Currently, food allergies are an important health concern worldwide. The presence of undeclared allergenic ingredients or the presence of traces of allergens due to accidental contamination during food processing poses a great health risk to sensitized individuals. Therefore, reliable analytical methods are required to detect and identify allergenic ingredients in food products. Real-time PCR allowed a specific and accurate amplification of allergen sequences. Some processing methods could induce the fragmentation and/or degradation of genomic DNA and some studies have been performed to analyze the effect of processing on the detection of different targets, as thermal treatment, with and without applying pressure. In this review, we give an updated overview of the applications of real-time PCR for the detection of allergens of tree nut in processed food products. The different variables that contribute to the performance of PCR methodology for allergen detection are also review and discussed.
La presencia de ingredientes alergénicos no declarados o la existencia de trazas de alérgenos debido a la contaminación accidental durante el procesamiento de alimentos representa un gran riesgo para la salud de las personas alérgicas. Por lo tanto, se requieren métodos analíticos muy sensibles y precisos para detectar e identificar ingredientes alergénicos en alimentos procesados. En esta revisión, proporcionamos una descripción actualizada de las aplicaciones de la PCR en tiempo real para la detección de secuencias de alérgenos de frutos secos en productos alimenticios procesados. También se revisan y discuten las diferentes variables que afectan al rendimiento de la metodología de PCR para la detección de alérgenos
Collections