Publication:
La infusión intracerebral de líquido cefalorraquídeo de pacientes de esclerosis lateral amioatrófica en rata como modelo de difusión de la enfermedad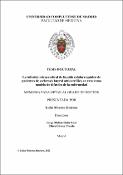 Files
Authors
Advisors (or tutors)
Editors
Publisher
Universidad Complutense de Madrid
Abstract
La Esclerosis Lateral Amiotrófica es un desorden neurodegenerativo, progresivo e incapacitante, caracterizada por la degeneración de las motoneuronas superiores de la corteza cerebral, las motoneuronas inferiores del tronco cerebral y motoneuronas de la médula espinal. La edad de inicio de esta enfermedad es variable, generalmente, suele originarse en la edad adulta, en torno a los 40-60 años. La neuropatología asociada a esta enfermedad presenta diferentes aspectos, como pueden ser la degeneración de las motoneuronas, las inclusiones intracitoplasmáticas y la neuroinflamación, caracterizada por aumento de la microgliosis y astrogliosis, tanto de la corteza motora como de la médula espinal. En la actualidad se desconocen los mecanismos que subyacen el inicio de esta enfermedad, sin embargo, las investigaciones realizadas durante los últimos años han permitido determinar ciertos mecanismos que están involucrados en la ELA, entre ellos se encuentran el estrés oxidativo, la desregulación del tráfico axonal, la excitotoxicidad mediada por glutamato, alteraciones en el metabolismo del ARN y alteraciones en la homeostasis proteica...
Amyotrophic lateral sclerosis is a progressive and disabling neurodegenerative disorder characterized by degeneration of the upper motor neurons of the cerebral cortex, the lower motor neurons of the brain stem and motor neurons of the spinal cord. The age of onset of this disease is variable; generally, it usually originates in adulthood, around 40-60 years of age.The neuropathology associated with this disease presents different aspects such as motor neuron degeneration, intracytoplasmic inclusions and neuroinflammation characterized by increased microgliosis and astrogliosis in both motor cortex and spinal cord. The mechanisms underlying the onset of this disease are currently unknown; however, research carried out in recent years has made it possible to determine certain mechanisms involved in ALS, including oxidative stress, deregulation of axonal trafficking, glutamate-mediated excitotoxicity, alterations in ARN metabolism and alterations in protein homeostasis...
Description
Tesis inédita de la Universidad Complutense de Madrid, Facultad de Medicina, leída el 31-03-2022
Collections