Publication:
Tratamiento fisioterápico de los andadores de puntillas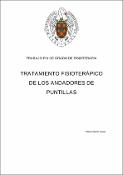 Authors
Advisors (or tutors)
Editors
Abstract
Los andadores de puntillas caminan habitualmente sin apoyar el talón, con un patrón preferente de contacto inicial con la punta del pie o con toda la planta, pero son capaces de apoyar el talón en bipedestación y de realizar una marcha con choque inicial del talón cuando se les pide o se concentran. La marcha de puntillas idiopática se considera un diagnóstico de exclusión de patologías neurológicas y ortopédicas cuando persiste en niños de más de 3 años que comenzaron a caminar con este patrón de forma simétrica, pero las características propias que muestran estos niños han propiciado que se haya propuesto definirla como síndrome que expresa un retardo de la adquisición y la maduración neuromotriz, que se perpetúa con una retracción secundaria del tríceps sural. Su tratamiento habitual está enfocado a mejorar la limitación de la flexión dorsal del tobillo e incluye estiramientos y ejercicios, férulas, toxina botulínica y cirugía de alargamiento en los casos en los que existe un equino, aunque su efectividad no está clara y no existen criterios claros de indicación terapéutica. A partir de la hipótesis del origen central de esta alteración se propone un tratamiento de Fisioterapia basado en el Ejercicio Terapéutico Cognoscitivo o Método Perfetti, con el objetivo de favorecer el desarrollo neuromadurativo y mejorar las alteraciones ortopédicas, consecuencia de un patrón alterado.
Toe walkers habitually walk without heel strike, with a preferential pattern of initial contact with the forefoot or the whole plant, but they are capable of support the heel in standing and walking with initial heel shock when it is asked to them or they are focused on their gait. Idiopathic tiptoe gait is considered a diagnosis of exclusion of neurological and orthopaedic pathologies when it persists in children of more than 3 years that began to walk with this symmetrical pattern. The own characteristics of these children have propitiated the definition of tiptoe gait as a syndrome expressing a delay of the neuromotor acquisition and maturation, perpetuated with a secondary retraction of the triceps surae. Its habitual treatment is focused to improving the limitation of the ankle dorsal flexion and includes stretching and exercises, braces, botulinum toxin and lengthening surgery if the chid has an ankle equinus contracture, though his efficiency is not clear and there do not exist unambiguous criteria of therapeutic indication. From the hypothesis of the central origin of this alteration this work proposes a Physical Therapy treatment based on the Therapeutic Cognitive Exercise or Perfetti Method, with the aim of enhance the development and improve orthopaedic alterations, considered a consequence of an altered pattern.