Publication:
Pseudomyopia: A Review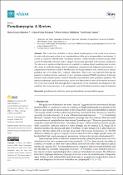 Advisors (or tutors)
Editors
Abstract
This review has identified evidence about pseudomyopia as the result of an increase in ocular refractive power due to an overstimulation of the eye's accommodative mechanism. It cannot be confused with the term "secondary myopia", which includes transient myopic shifts caused by lenticular refractive index changes and myopia associated with systemic syndromes. The aim was to synthesize the literature on qualitative evidence about pseudomyopia in terms that clarify its pathophysiology, clinical presentation, assessment and diagnosis and treatment. A comprehensive literature search of PubMed and the Scopus database was carried out for articles published up to November 2021, without a data limit. This review was reported following the preferred reporting items for systematic reviews and meta-analyses (PRISMA) guidelines. Following inclusion and exclusion criteria, a total of 54 studies were included in the qualitative synthesis. The terms pseudomyopia and accommodation spasm have been found in most of the studies reviewed. The review has warned that although there is agreement on the assessment and diagnosis of the condition, there is no consensus on its management, and the literature describes a range of treatment.
Collections