Publication:
Ricardo Bellver y Ramón: su obra escultórica: un estudio historiográfico y documental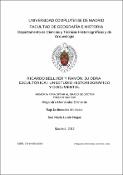 Files
Authors
Advisors (or tutors)
Editors
Publisher
Universidad Complutense de Madrid, Servicio de Publicaciones
Abstract
La investigación llevada a cabo por la autora en archivos públicos y privados y en hemeroteca abarca un período cronológico comprendido entre 1767 y 1924, en el que se analizan los documentos relativos a la dinastía de los escultores Bellver, sacando a la luz datos biográficos de estos artistas, así como las obras inéditas de los mismos, y actualizándose sus catálogos.La relación de los Bellver con las Bellas Artes se inicia a finales del S. XVIII, con la estancia de Pedro Bellver y Llop en la Real Academia de Bellas Artes de San Carlos de Valencia, aunque será su hermano pequeño, Francisco Bellver y Llop, quien se trasladará a Madrid, cuando tenía dieciocho años, para estudiar en la Real Academia de Bellas Artes de San Fernando. A partir de este momento la vinculación del escultor y sus descendientes con la institución fernandina y Madrid será total, pues dos de sus hijos, Francisco y José, ingresarán como académicos de número en esta institución, mientras que Mariano será nombrado escultor honorario de Cámara; pero el sueño de alcanzar el máximo prestigio se haría realidad con su nieto, el escultor Ricardo Bellver y Ramón, personaje principal de esta tesis y uno de los escultores más importantes de la segunda mitad del siglo XIX español, del que aquí se da a conocer una interesante obra gráfica, inédita hasta este momento, así como el análisis y estudio pormenorizado de su producción escultórica. The research carried out by the authoress at public and private archives and at newspaper libraries spans a chronological period from 1767 to 1924, in which it examines documents relating to Bellver sculptors dynasty, bringing to light biographical information about these artists and their unpublished works, updating their artistic catalogs.The connection between Bellver family and Fine Arts begins at about the end of XVIII Century, with Pedro Bellver at the Real Academia de Bellas Artes de San Carlos of Valencia, although it will be his younger brother, Francisco Bellver y Llop, who will move to Madrid when he was eighteen years old to study at the Real Academia de Bellas Artes de San Fernando. From that moment the link between the sculptor and his descendant with the fernandian institution and with Madrid will be complete, because two of his sons, Francisco and José, will join this institution like permanent member, while Mariano will be appointed Honorary Chamber Sculptor; however the dream of reach the highest prestige will materialize with his grandson, the sculptor Ricardo Bellver y Ramón, who is the main figure of this Thesis and one of the most important sculptors of the second half of XIX Century in Spain, whom here is an interesting graphic work, unpublished until this moment, and also an analysis and a detailed study of his sculptural output.
Description
Tesis de la Universidad Complutense de Madrid, Facultad de Geografía e Historia, Departamento de Ciencias y Técnicas Historiográficas y de Arqueología, leída el 14-07-2011
Collections