Publication:
Del burdel al emporio cinematográfico: el papel fundamental, olvidado, principal y pionero del soldado español Antonio Ramos Espejo en el nacimiento del cine chino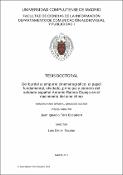 Authors
Advisors (or tutors)
Editors
Publisher
Universidad Complutense de Madrid
Abstract
Antonio Ramos Espejo (Alhama de Granada, Granada, 1878 – Madrid, 1944) fue uno de los principales pioneros españoles del cine y uno de los pioneros principales del cine chino, no sólo en el ámbito de la exhibición cinematográfica, también como promotor de algunas de las primeras películas chinas y como distribuidor durante décadas en todo el país. Por lo demás, junto al también español Ramón Ramos, dominó el mundo del vodevil en Extremo Oriente en la primera década del siglo XX a través de su empresa Ramos Bros., también llamada Ramos & Ramos. Tras encargarse de las primeras proyecciones y filmaciones del cinematógrafo en Manila, todavía como soldado del ejército español destinado a frenar las revueltas independentistas filipinas, se trasladó a Shanghái, desde donde controlaría el despertar del cine en China en conjunción con su socio Ramón Ramos, a cargo este de las colonias extranjeras del sur del país, Hong Kong y Macao. Este trabajo traza una biografía de Antonio Ramos Espejo centrándose ante todo en su prolongada etapa como empresario cinematográfico en China en un intento de dibujar en paralelo un novedoso panorama del cine chino de los orígenes a través de las actividades, sepultadas por el olvido y políticas historiográficas marcadas por un obstinado nacionalismo y consideraciones ideológicas alejadas de lo cinematográfico o lo científico, de varios cineastas y empresarios extranjeros de los que se dará cuenta en capítulos específicos. Junto a Ramos Espejo y su socio en la Ramos & Ramos, se hablará en detalle de la labor en las primeras décadas del cine chino de Bernardo Goldenberg, Saville Hertzberg, Amerigo Enrico Lauro y Benjamin Brodsky. Surgirá en consecuencia un esbozo insólito de la génesis del cine en el país, una ilustración efectiva de los hechos que derivará en un análisis implícito y, en lo necesario, explicitado de las contingencias, las necesidades, las causas y las consecuencias de la llegada del cine a la China y a lo chino...
Antonio Ramos Espejo (Alhama de Granada, Granada, 1878 – Madrid, 1944) was one of the most important Spanish film pioneers and one of the chief pioneers of Chinese cinema, not just in the realm of film exhibition, also as the promoter of some of the earlier Chinese movies and as a distributor throughout the country for decades. Moreover, together with Ramón Ramos, a Spaniard as well, he controlled vaudeville in the Orient during the first decade of 20th century with his company Ramos Bros., also known as Ramos & Ramos. After being in charge of the first exhibition and shooting of the cinematograph in Manila, still as a soldier in the Spanish army arrived in the Philippines to suffocate the pro-independence revolt in the archipelago, he moved to Shanghai, from where he would control the awakening of cinema in China in association with Ramón Ramos, who ruled over the business in the foreign colonies in the South, Hong Kong and Macau. Our work traces a biography of Antonio Ramos Espejo focusing above all on his extended participation as a film entrepreneur in China in an attempt to simultaneously draw an original outlook of early Chinese cinema throughout the activities (described in their specific chapters) of several foreign film-makers and film promoters, interred in oblivion by the historiographic policies outlined by an obstinate nationalism and ideological considerations which are far away from the 'cinematographic' or the 'scientific'. Transcending Ramos Espejo and his partner in Ramos & Ramos, we will learn in detail the deeds in the first decades of Chinese cinema of Bernardo Goldenberg, Saville Hertzberg, Amerigo Enrico Lauro and Benjamin Brodsky. An unwonted glimpse of the genesis of film industry in the country will, therefore, emerge, an effective illustration of facts which will originate an implicit analysis, explicitly stated when necessary, of the contingencies, the necessities, causes and consequences of the arrival of film to China and to the 'Chinese' as a concept...
Description
Tesis inédita de la Universidad Complutense de Madrid, Facultad de Ciencias de la Información, Departamento de Comunicación Audiovisual y Publicidad I, leída el 06/10/2016
Collections