Publication:
La pensión de alimentos en hijos mayores de edad: casuística y análisis jurisprudencial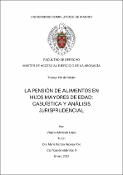 Authors
Advisors (or tutors)
Editors
Abstract
El Derecho de Familia se define como el conjunto de normas que rigen la institución de la familia y las relaciones jurídicas que de ella se derivan. Estas relaciones familiares implican la consecución de determinados derechos y obligaciones. Entre dichas obligaciones se encuentra la obligación de alimentos entre parientes, que nace cuando alguno de los miembros que integra la familia no puede procurarse su propia subsistencia. En base a esta premisa, el objetivo de este trabajo es realizar un análisis de la obligación de alimentos para el supuesto de hijos mayores de edad, con el foco inicialmente en los aspectos básicos de dicha obligación, así como en las diferencias en relación a los hijos menores de edad, para finalizar tratando parte de los principales problemas que pueden plantearse tanto a nivel de práctica jurídica como en el ejercicio diario de la profesión de abogado.
Family Law is defined as the legal rules governing the institution of the family and the legal relationships that derive from it. These family relationships imply certain obligations and rights. Among these obligations, the duty to maintain between relatives arises when one of the members of the family is not in a position to procure their own subsistence. Based on this premise, the objective of this work is to carry out an analysis of the care and subsistence obligations in the case of descendats above 18. Initially, the work will focus on the basic aspects of this obligation, as well as on the differences in relation to descendants under 18. To conclude, the study will deal with some of the main problems that may arise, both in level of legal practice and in the daily practice of the legal profession.