Publication:
European Union immigration policy. The use of experiences of the EU for non-EU countries (considering the example of Russia)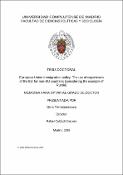 Files
Authors
Advisors (or tutors)
Editors
Publisher
Universidad Complutense de Madrid
Abstract
Esta tesis doctoral estudia uno de los temas de mayor actualidad de la UniónEuropea: la regulación de la inmigración de personas a la Unión Europea.La estructura de la tesis: la tesis consta de una introducción, cuatrocapítulos, conclusión, bibliografía y apéndices.En el primer capítulo se examina la dinámica de las políticas de inmigraciónde la UE a partir del Tratado de Maastricht y el Tratado de Lisboa, así como lascaracterísticas de las principales áreas de la política de inmigración de la UE.El segundo capítulo contiene enfoques teóricos de la regulación de lainmigración en los Estados Miembros de la Unión Europea. Además, esta partede la tesis doctoral incluye un análisis de la práctica de la aplicación de estosenfoques, en particular elabora un aspecto del tema de la solución de problema deinmigración en Estados Unidos como uno de los ejemplos más interesantes deregulación de la inmigración.El tercer capítulo repasa el Reglamento para la integración de lostrabajadores cualificados de terceros países (no UE) en la Unión Europea.La investigación comprende una amplia gama de temas. De este modopermite investigar las principales tendencias de la política de inmigración de laUE y, a su vez, nos pone en perspectiva con respecto a un posible aumento de lacooperación entre la Unión Europea y Rusia en lo referente a la administración dela migración. También se tiene en cuenta la posible reutilización por parte deRusia de la experiencia de la UE en el control de los procesos de inmigración.Todo esto está incorporado en el cuarto capítulo, en el que Rusia se estudia en elcontexto de la política de inmigración de la Unión Europea...
This Ph.D. thesis revealed one of the most topical issues of the EuropeanUnion - the issue of regulating the immigration of people to the European Union.The structure of the dissertation research: the thesis consists of anintroduction, four chapters, conclusion, bibliography and appendices.The dynamics of the EU immigration policy, starting from the MaastrichtTreaty and up to the Lisbon Treaty were examined in the first chapter of the thesis,as well as the features of the main areas of the EU immigration policy.The second chapter contains theoretical approaches to immigrationregulation in the various Member States of the European Union. In addition, thispart of the dissertation includes an analysis of the implementation of theseapproaches, in particular, it will elaborate on the immigration issue settlement inthe USA, as one of the most interesting examples of immigration regulation.The third chapter identifies regulations for the integration of skilled workersfrom third (non-EU) countries into the European Union.The research comprises a wide range of issues. Thereby, it allows forresearch of the main trends of the EU immigration policy that, in its turn, wasenable to draw a perspective in respect of the outlook of further co-operationbetween the European Union and Russian Federation on the migrationadministration. The possible reuse by Russia of the EU experience in theimmigration processes control was considered as well. This all is a theme of fourthchapter where Russia was observed in the context of European Union immigrationpolicy...
Description
Tesis de la Universidad Complutense de Madrid, Facultad de Ciencias Políticas y Sociología, leída el 05-09-2017
Collections