Publication:
Iconos audiovisuales en las redes sociales: del 15M al 12M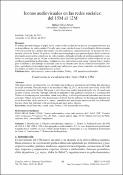 Authors
Advisors (or tutors)
Editors
Publisher
Servicio de Publicaciones Universidad Complutense
Abstract
El trabajo pretende indagar el papel de los iconos audiovisuales en los nuevos relatos periodísticos que se desarrollan en las redes sociales. Para ello toma como estudio de caso la revitalización del movimiento 15M con ocasión de su primer aniversario y la convocatoria de concentración del 12 de mayo de 2012, narrada a través de Twitter. Se parte de estudios anteriores propios que apuntan al papel de los iconos audiovisuales como nodos centrales de las redes sociales. Aplicados métodos de análisis cuantitativo y cualitativo se concluye que en Twitter se desarrollan nuevos relatos periodísticos audiovisuales en los que confluyen periodistas profesionales y ciudadanos. Los vídeos tienen más carga viral que fotos y textos, pero la influencia del mensaje no depende tanto de su formato como de su contenido movilizador. Medios y periodistas profesionales siguen siendo muy influyentes, pero ahora comparten esa influencia con los medios sociales y los ciudadanos más activos.
This paper aims to investigate the role of visual icons in the new journalistic storytelling that take place in social networks. The case study is the marches of May 12, 2012, on the first anniversary of the 15M movement, narrated in Twitter. The paper is part of previous studies that point to the role of visual icons as hubs of social networks. Through methods of quantitative and qualitative analysis it is concluded that Twitter is developing new journalistic visual storytelling, in which professional journalists and citizens converge. Videos have more viral than pictures and text, but the influence of the message depends less on its format than on the power of is content. Journalists and mainstream media are still very influential, but now share that influence with social media and more active citizens.
Citation
ASSOCIATED PRESS (2012): Social media Guidelines for AP employees, http://www.ap.org/Images/SocialMediaGuidelines7242012_tcm288378.pdf [revisado 260712]. BOLTER, Jay David & GRUSIN, Richard (1999): Remediation: Understanding New Media. Cambridge. Massachusetts, MIT Press. CARRERA ÁLVAREZ, Pilar; SAINZ DE BARANDA ANDÚJAR, Clara; LIMÓN SERRANO, Nieves (2012): "Journalism and social media: how spanish journalists are using Twitter", Estudios sobre el Mensaje Periodístico, Vol. 18 (1), pp. 3153. Madrid, Servicio de Publicaciones de la Universidad Complutense. DE LUCA, Kevin M.; LAWSON, Sean; & SUN, Ye (2012): "Occupy Wall Street on the Public Screens of Social Media: The Many Framings of the Birth of a Protest Movement". Communication, Culture & Critique, 5 (4), pp. 483509. Doi:10.1111/j.17539137.2012.01141.x. DÍAZ ARIAS, Rafael (2012): "Periodismo, iconos audiovisuales y redes sociales". En CEBRIÁN HERREROS, Mariano (dir.): Innovaciones periodísticas en las redes sociales, Madrid, Facultad de Ciencias de la Información (UCM). http://eprints.ucm.es/19917/ [revisado 10313] DÍAZ ARIAS, Rafael (2009): "La formalización de la realidad: noticia, acontecimiento mediático, ciberacontecimiento". En FLORES, Jesús y ESTEVE, Francisco (eds.):, Periodismo Web 2.0. Madrid, Fragua, http://www.ucm.es /eprints/7869/ [revisado 100612]. GARCÍA, Antonio; GARCÍA, Isabel; VARONA, David (2012): "Incidencia de las redes sociales vs cibermedios, en las elecciones en España, 2011". Enl@ce Revista Venezolana de Información, Tecnología y Conocimiento, 9 (2), pp. 1129. HERMIDA, Alfred (2010): "Twittering the news: the emergence of ambient journalism". Journalism Practice, vol. 4 (3), pp. 297308. INGRAM, Mathew (2012): "Why traditional media should be afraid of Twitter?". Gigaom, Jun. 12: http://gigaom.com/2012/06/12/whytraditionalmediashouldbeafraidoftwitter/[revisado, 120612] NIELSEN (2013): State of the Media: The Social Media Report 2012. Blog: http://www.nielsen.com/us/en/reports/2012/stateofthemediathesocialmediareport2012. html [revisado 30313] PEW INTERNET & AMERICAN LIFE PROJECT (2012): Twitter use 2012. Site: http://www.pewinternet.org/~/media//Files/Reports/2012/PIP_Twitter_Use_2012.pdf [revisado 200712] POELL, Thomas; BORRA, Erik (2011): "Twitter, YouTube, and Flickr as platforms of alternative journalism: The social media account of the 2010 Toronto G20 protests". Journalism, 13 (8), pp. 119. RÍOS, Carmela (2012): El #15m, en directo en Twitter: una narración periodística (abril, mayo y junio de 2011): http://elpais.com/especiales/2012/narracion15m/pdf/15m_CarmelaRios.pdf (200712). SÁNCHEZ, Juan Luis (2012): "Reporterismo multimedia y reporterismo participado". Cuadernos de Comunicación Evoca, nº 7, pp. 2933: http://www.evocaimagen.com/cuadernos.html [revisado 200612] TASCÓN, Mario y ABAD, Mar (2011): Twittergrafía: el arte de la nueva escritura. Madrid, Libros de la Catarata.
Collections