Publication:
La narrativa criminal estadounidense en la España franquista: Peter Rabe y la censura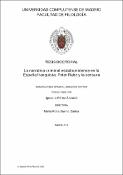 Files
Authors
Advisors (or tutors)
Editors
Publisher
Universidad Complutense de Madrid
Abstract
Para empezar, esta tesis doctoral combina el estudio del género literario de narrativa criminal desde el punto de vista del contexto origen estadounidense y del contexto meta español. Las novelas originales escritas por Peter Rabe Benny Muscles In (1955) y The Out is Death (1957) se traducen al castellano en Méjico como Traficantes en drogas (1958) y Al salir está la muerte (1957). Se intenta importarlas a España en una época especialmente problemática como fue la dictadura franquista y, enfrentándose al filtro de la censura propio del momento. La idea es desarrollar los marcos contextuales relacionados con los mencionados contexto origen, contexto meta y marco literario, con el objetivo de contrastar las ideas en ellos reflejadas con el análisis en detalle de dos novelas originales y sus traducciones. De este modo, se configuran las hipótesis, las cuales se verán corroboradas en mayor o menor medida con las conclusiones. Para ello, y siempre en una trayectoria de lo más general a lo más específico, se analiza en primer lugar el contexto origen, Estados Unidos, partiendo de un marco cultural fijado por la influencia puritana en la ideología y cultura norteamericanas con conceptos clave como la individualidad, la responsabilidad personal, la regeneración y la redención y la posibilidad de que estos conceptos puedan formar parte de la concepción del arte como medio de control social...
To begin with, this doctoral dissertation joins the study of the literary genre of crime fiction from the point of view of the American original context and the Spanish target context. The original novels written by Peter Rabe, Benny Muscles In (1955) and The Out is Death (1957) are translated to Spanish in Mexico as Traficantes en drogas (1958) and Al salir está la muerte (1957). There is an attempt to import them towards Spain in a particularly problematic age such as Franco's dictatorship and facing the filter of censorship of that period. The idea is to develop the contextual frameworks linked to the above mentioned source and target contexts as well as the literary framework, in order to contrast the ideas in them with the detailed analysis of both original novels and their translations. This way, the hypothesis are put to text and verified or not in the conclusions. To this effect, and always from the general to the specific view, the source context is the first one to be shown, the United States of America, beginning with a cultural framework and focusing on the puritan impact in the American ideology and culture, with key concepts such as individuality, personal responsibility, regeneration and redemption, as well as the possibility that these concepts are part of the conception of art as a means of social control. Then, the American historical context at the beginning of the 20th century as the framework of the plot of the analyzed novels, in the age of urbanization, industrialization and flourishing of organized crime linked to the changes in society, as well as the real situation of this organized crime and the criminals' way to proceed in that specific period that is its breeding ground...
Description
Tesis inédita de la Universidad Complutense de Madrid, Facultad de Filología, leída el 12/07/2017
Collections