Publication:
Understanding the migration phenomenon: the romanian roma in Sweden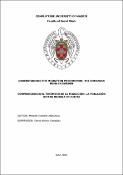 Authors
Advisors (or tutors)
Editors
Abstract
Since Romania joined the European Union (EU) in 2007, other EU member countries have started to experience an influx of migrants from Romania, specifically the Roma community. The Roma population has been a discriminated group for centuries. In Romania, their social exclusion has been related to a wide range of factors such as ethnic origin, poor living conditions, or the limited access to education and employment. These factors are not mutually exclusive and they usually come together. This paper is aimed to describe the migration phenomenon of Romanian Romani people in Stockholm, Sweden through the eyes of the migrants themselves. The main goal is to get first-hand knowledge about the Roma community and truly understand the characteristics of their mobility process. The study is primarily based on qualitative research, which gives a clearer insight of the Romani migration. Six semi-structured interviews aresupporting the bibliographical reviews.
Desde que Rumanía entró en la Unión Europea (UE) en el año 2007, los demás países europeos han empezado a experimentar una afluencia de inmigrantes desde Rumanía, en concreto los roma o romaní. La población romaní es un grupo discriminado desde hace siglos. En Rumanía, su exclusión social ha sido relacionada con una gran variedad de factores tales como el origen étnico, las precarias condiciones de vida, el acceso limitado a la educación y al empleo. Dichos factores no son excluyentes entre sí y normalmente aparecen juntos. El presente trabajo tiene como objeto describir el fenómeno de la migración de la población gitana rumana en Suecia, Estocolmo a través de las experiencias de los mismos emigrantes. El objetivo central es conocer y entender de primera mano las características de este proceso de movilidad. El estudio está basado principalmente en la metodología cualitativa que ofrece una profunda comprensión sobre la migración de los Roma. Seis entrevistas semiestructuradas complementan las búsquedas bibliográficas.