Publication:
Plio-Pleistocene climatic change had a major impact on the assembly and disassembly processes of Iberian rodent communities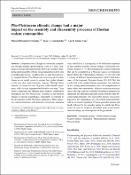 Advisors (or tutors)
Editors
Abstract
Comprehension of changes in community composition through multiple spatio-temporal scales is a prime challenge in ecology and palaeobiology. However, assembly, structuring and disassembly of biotic metacommunities in deep-time is insufficiently known. To address this, we used the extensively sampled Iberian Plio-Pleistocene fossil record of rodent faunas as our model system to explore how global climatic events may alter metacommunity structure. Through factor analysis, we found five sets of genera, called faunal components, which co-vary in proportional diversity over time. These faunal components had different spatio-temporal distributions throughout the Plio-Pleistocene, resulting in non-random changes in species assemblages, particularly in response to the development of the Pleistocene glaciations. Three successive metacommunities with distinctive taxonomic structures were identified as a consequence of the differential responses of their members to global climatic change: (1) Ruscinian subtropical faunas (5.3–3.4 Ma) dominated by a faunal component that can be considered as a Miocene legacy; (2) transition faunas during the Villafranchian–Biharian (3.4–0.8 Ma) with a mixture of different faunal components; and (3) final dominance of the temperate Toringian faunas (0.8–0.01 Ma) that would lead to the modern Iberian assemblage. The influence of the cooling global temperature drove the reorganisation of these rodent metacommunities. Selective extinction processes due to this large-scale environmental disturbance progressively eliminated the subtropical specialist species from the early Pliocene metacommunity. This disassembly process was accompanied by the organisation of a diversified metacommunity with an increased importance of biome generalist species, and finally followed by the assembly during the middle–late Pleistocene of a new set of species specialised in the novel environments developed as a consequence of the glaciations.
Collections