Publication:
La diversidad cultural en la educación secundaria en Madrid: experiencias y prácticas institucionales con alumnado inmigrante latinoamericano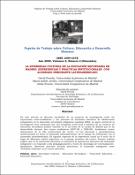 Files
Advisors (or tutors)
Editors
Publisher
Universidad Autónoma de Madrid
Abstract
En este artículo se discuten resultados de un proyecto de investigación sobre las trayectorias socio-académicas y los procesos de exclusión educativa de adolescentes inmigrantes en la educación secundaria obligatoria española (ESO). La parte central de la investigación está compuesta por una etnografía multi-nivel y holística de un instituto de educación secundaria público ubicado en el sur-oeste de la ciudad de Madrid que se ha desarrollado durante dos cursos académicos (2007-08 y 2008-09). Analizamos cuatro dimensiones de la vida institucional del centro: (1) Los discursos y procedimientos institucionales en torno al alumnado latinoamericano; (2) el trabajo de orientación con el alumnado latinoamericano; (3) algunos aspectos de la experiencia social en el aula; (4) el lugar de diferentes estilos expresivos en el paisaje semiótico del centro. Nuestro análisis sugiere que en la institución educativa se interpreta la experiencia educativa del alumnado inmigrante y se responde a ella pedagógicamente a través de estrategias de 'externalización'. Igualmente, diferentes procesos sociales posicionan al alumnado inmigrante como 'invitados/visitantes' en el centro educativo.
In this paper we discuss results from a project that investigates the socio-academic trajectories and potential processes of educational exclusion of immigrant adolescents in Spanish compulsory secondary education (ESO, for students between 12-16 years of age). The major part of the study is a multi-level holistic ethnography of an urban secondary school in the south-west of Madrid conducted during two academic years (2007-08 and 2008-09). In this article we focus on four dimensions of the institutional life of the school: (1) Institutional discourses and procedures around Latin-American students; (2) Counseling and support work with immigrant Latin-American students; (3) Some aspects of social life the classroom; (4) The place of different expressive styles in the semiotic landscape of the school. Our analysis suggests that the institution explains immigrant students' educational experiences and responds to them pedagogically through strategies and mechanisms of 'externalization'. Also, different social processes position immigrant students as 'guests/visitors' in the school.
Collections