Publication:
Facing the Challenge of Collaborative Consumption in Europe: A Time for Independent Metrics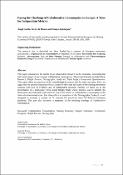 Advisors (or tutors)
Editors
Abstract
This paper summarizes the results of an independent research on the economic, environmental and social impact of peer-to-peer collaborative consumption. The research design included Desk Research, Delphi Process, Netnographic Study and Triple Impact Assessment Questionnaire. This paper offers an overview of the methodological process and the main outcomes. First, we argue that the positive long-run effects claimed by the chief advocates of the sharing movement contrast with lack of evidence and of independent research. Second, we move on to the presentation of a multi-panel three round Delphi Study whose purpose was to identify the dimensions and indicators with which to assess the impact of collaborative consumption in the three aforementioned areas. Part three offers an overview of the Netnographic Protocol, a tool designed to evaluate a sample of 70 national CC platforms from 55 different European platforms. This part also advances a summary of the resulting typology of collaborative consumption.