Publication:
Herramienta de gestión de alertas categorizadas: MADALERT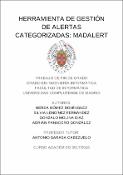 Files
Advisors (or tutors)
Editors
Abstract
El uso de aplicaciones en dispositivos móviles ha ido creciendo a lo largo de la última década a una velocidad vertiginosa, hasta llegar a convertirse hoy en día en una herramienta fundamental en la vida cotidiana de las personas. Este proyecto presenta un sistema formado por una aplicación para Android y una aplicación web que permite la gestión de alertas sobre sucesos que ocurren en tiempo real utilizando la geolocalización que ofrecen los dispositivos móviles. Las alertas que pueden seguirse pueden ser de alguna de las categorías definidas en el sistema. La aplicación está realizada para ser utilizada por cualquier tipo de usuario que quiera mantenerse al tanto de las alertas que puedan ocurrir en la ciudad de Madrid (España) y sus 21 distritos en los que está dividida.
The use of applications in mobile devices has grown over the last decade at breakneck speed, having become a fundamental tool in people's daily lives. This project presents an Android and a web application that allow the management of alerts about events that occur in real time using the geolocation offered by mobile devices. These alerts can be from the one of the categories defined in the system. The application is made to be used by any type of user who wants to keep abreast of the alerts that may occur in the city of Madrid (Spain) and its 21 districts in which it is divided.
Description
Universidad Complutense, Facultad de Informática, curso 2017/2018