Publication:
El género Uralichas Delgado, 1892 (Trilobita, Lichaida) en el Ordovícico de la Península Ibérica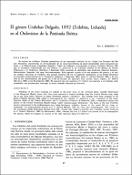 Files
Authors
Advisors (or tutors)
Editors
Publisher
Instituto Geológico y Minero de España (Madrid)
Abstract
Se revisan los trilobites Lichaida procedentes de los materiales lutíticos de las «Capas con Tristani» del Macizo Hespérico, encontrados en 20 localidades de la zona Centroibérica de edad comprendida entre el Llanvirn Inferior y el Dobrotiviense (Llandeilo) Superior. Todos los hallazgos corresponden al género Uralichas DELGADO, 1892, que se encuentra representado por dos formas: U. gutierrezi n. sp. (Llanvirn Inferior de los Montes de Toledo-Villuercas), y U. hispanicus (VERNEUIL y BARRANDE, 1856), conocido en materiales más modernos (Llanvirn Superior-Dobrotiviense Superior) del área ibero-armoricana. Esta segunda especie es la más moderna del género, y al mismo tiempo representa el trilobites más grande conocido (66 cm. de longitud). Igualmente, se ha podido demostrar la prioridad nomenclatural de U. hispanicus (VERNEUIL y BARRANDE,, 1856), sobre U. ribeiroi DELGADO, 1892; y la revisión de los representantes del género en el SO de Europa ha aportado otra posible nueva especie [U. heberti (ROUAULT, 1849) sensu RACHEBOEUF, 1969]. El material tipo del auténtico U.? heberti corresponde a un lichaido indeterminable, que proponemos restringir al único ejemplar figurado por ROUAULT.
Trilobites of the order Lichaida are seldom in the shaly units of the «Tristani Beds» (middle Ordovician) of the Hesperian Massif, where they have been recorded in twenty localities from the Central Iberian zone, ranging in age from lower Llanvirn to upper Dobrotivá (approx.=Llandeilo). The findings have been assigned to the genus Uralichas DELGADO, 1892, which is represented by two species: U. gutierrezi n. sp., restricted to the lower Llanvirn shales of the Toledo Mountains; and U. hispanicus (VERNEUIL & BARRANDE, 1856), a ubiquitous specics also known in the French Armorican Massif (range: upper Llanvirn-upper Dobrotivá). The latter is the last Uralichas species represented in the mediterranean area, being the largcst trilobites known in the world (66 cm. long, reexamined). lts nomenclatural priority over U. ribeiroi DELGADO, 1892 has been also demonstrated. The review of the remaining middle Ordovician lichaids from SW. Europe has yielded a possible new Uralichas species [referred as U. heberti (ROUAULT, 1849) by RACHEBOEUF, 1969], whereas the true U.? heberti has proved to be an unrecognizable species, which we propose to restrict to the only specimen figured by ROUAULT.
Collections