Publication:
Estudio de la transferencia de quiralidad en sistemas organometálicos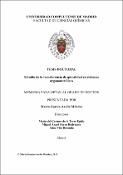 Files
Authors
Advisors (or tutors)
Editors
Publisher
Universidad Complutense de Madrid
Abstract
Los 1,2,3-triazolilidenos han ganado gran importancia en las últimas décadas debido, entre otras cosas, a su fácil síntesis. Sus precursores, los 1,2,3-triazoles, se obtienen como producto de la reacción altamente eficiente y regioselectiva de cicloadición entre alquinos y azidas catalizada por Cu(I) (CuAAC), lo que permite acceder a una gran diversidad estructural, así como modular las propiedades electrónicas del carbeno. Estos carbenos se utilizan ampliamente como ligandos de metales de transición en procesos catalíticos. Por otro lado, el incremento en la demanda de compuestos enantioméricamente puros con potencial aplicación en catálisis asimétrica o como dispositivos ópticos han impulsado el desarrollo y estudio de nuevas estrategias de síntesis estereoselectivas...
1,2,3-triazolylidenes have gained much attention in the last decades due, among other reasons, to their simple synthesis. Their precursors, 1,2,3-triazoles, are easily obtained as products of the efficient and regioselective Cu(I) catalysed Huisgen alkyneazide cycloaddition (CuAAC). This reaction allows to prepare compounds with high structural diversity and to modulate the electronic properties of the resulting carbenes. These carbenes have been applied as ligands of transition metals in great number of catalysed reactions.On the other hand, the need for enantio pure compounds has increased in the last years due to their potential application as asymmetric catalyst or as optical devices. Therefore, the search and development of new strategies of stereoselective synthesis is always required...
Description
Tesis inédita de la Universidad Complutense de Madrid, Facultad de Ciencias Químicas, Departamento de Química Orgánica, leída el 15-10-2019
Collections