Publication:
Rasgos morfológicos y petrológicos del paleokarst de la unidad superior del Mioceno de la Cuenca de Madrid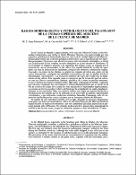 Advisors (or tutors)
Editors
Publisher
Consejo Superior de Investigaciones Científicas, Museo Nacional de Ciencias Naturales
Abstract
En la Cuenca de Madrid y, especialmente, en la zona sur (Mesa de Ocaña), la discontinuidad estratigráfica que define el límite Mioceno-Plioceno está representada por una superficie paleokárstica desarrollada sobre las calizas de la Unidad Superior del Mioceno. El paleokarst sufrió una evolución polifásica dentro de la cual se han destacado tres episodios principales. El primero, que afectó por igual a todo el conjunto carbonático, se inició con la desecación de los sistemas lacustres instalados en el área durante el Turoliense. El nivel freático se mantuvo próximo a la superficie del terreno, como se constata por la situación de cuevas horizontales en las calizas. La superficialidad de la tabla de agua, junto a la falta de litificación del sedimento, propició una extensiva colonización vegetal. Asociado a las raíces de las plantas, se originó un conjunto de tubos que, junto con las cuevas horizontales, configuran un modelado característico del tipo de perfiles kársticos denominados «descubiertos». La evolución posterior del karst tuvo lugar tras el plegamiento de las calizas. Esta segunda etapa se caracterizó por la formación local de calcretas con sus fábricas características (laminar, pisolítica, etc.) sobre los perfiles anteriores, lo que evidencia un régimen climático árido. Más tarde, la tipología de perfiles «cubiertos por calcretas» resultante fue enterrada por el sistema fluvial plioceno que se instaló en el NE de la Mesa de Ocaña. En la zona sur, más alejada de los depocentros deposicionales, se constata un tercer episodio evolutivo definido por la acumulación de suelos, fundamentalmente en los sinclinales. Bajo esta cubierta edáfica tuvo lugar una intensa disolución y brechificación del sustrato que se ha reflejado en un tercer tipo de perfiles, denominados «brechoides» y que indicarían condiciones climáticas húmedas. Finalmente, todo el conjunto fue fosilizado por las costras calcáreas que se formaron a finales del Plioceno. El estudio de este paleokarst permite, por un lado, desvelar los procesos diagenéticos principales que han experimentado las calizas de la Unidad Superior del Mioceno desde las etapas iniciales de exposición subaérea y, por otro, determinar que dicha exposición se prolongó durante todo el Plioceno. No obstante, la duración de la primera fase generalizada de karstificación fue más breve, ya que las evidencias apuntan a cifras del orden de 105 años.
In the Madrid Basin, especially in the Southem part (Mesa de Ocaña), the MiocenePliocene stratigraphic boundary is defined by a paleokarst sculpted on the Miocene limestones. The development of the paleokarst was completed in three main successive stages. The first one was initiated when the lacustrine sedimentary complex, settled in the basin during the Turolian, dried out. Although the water table dropped, it was still close to the surface, as indicated by the location of sub-horizontal caves in the limestone formation. The proximity of the water table favored an encroachment of vegetation into the unlithified sediment. Conduits related to the plant roots, together with the horizontal caves, represent the most prominent dissolution features of the resulting «uncovered» karst. The second stage of karstification took place after the limestones folded. It was characterized by the formation of calcretes, which exhibit typical fabrics (laminar, pisoliths, etc.), on the previous profiles, providing evidence of a dry climatic stage. Karstic profiles «covered by calcretes» were buried by a Pliocene river system. In the south zone of the Mesa de Ocaña, far away of the fluvial complex, a third episode of karstification has been verified. This episode is defined by the accumulation of soils, basically in the synclines, which caused the dissolution and brecciation of the substrate, as it is reflected in a third type of profiles, called «brechoides». These features are consistent with a humid climate. Finally, all types of karst were buried by a laminar calcrete formed at the latest Pliocene. Therefore, the polyphase development of the paleokarstic surface lasted almost all the Pliocene. Nevertheless, figures on the arder of 105 years are envisaged as reliable to assess the duration of the first phase, the only one evenly affecting the limestone formations.
Collections