Publication:
Las agriculturas territorializadas, oportunidades y retos frente al paradigma agroindustrial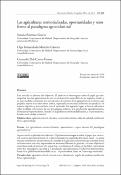 Advisors (or tutors)
Editors
Publisher
Universitat Autònoma de Barcelona
Abstract
Este artículo se plantea dos objetivos. El primero es interrogarse sobre el papel que desempeñan hoy las agriculturas locales en el desarrollo sostenible de los espacios rurales y en qué medida construyen un movimiento de retorno de la agricultura al territorio que propicia nuevas relaciones entre ambos, expresadas en maneras diferentes de producir, en nuevos objetivos y nuevos lazos con el territorio. En segundo lugar, se busca reflexionar sobre la difícil convivencia de dos paradigmas relativos a la producción agroalimentaria, el industrial hipermoderno, basado en la globalización/mundialización, y el posmoderno, basado en el anclaje territorial.
This paper has two main objectives: to examine the role played by local agriculture in the sustainable development of rural areas; and to investigate their involvement in the tendency of agriculture to return to the territory, which promotes new links between both, expressed through different production practices, new objectives and a stronger relationship. The paper also aims to consider the difficult coexistence of two paradigms related to agri-food production: the hypermodern industry, based on globalisation, and the postmodern, based on territorial embeddedness.
Collections