Publication:
De diferencias, jerarquizaciones excluyentes, y materialidades de lo cultural. Una aproximación a la precariedad desde el feminismo y la teoría queer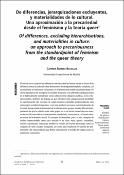 Advisors (or tutors)
Editors
Publisher
Universidad Complutense de Madrid
Abstract
El artículo es un conjunto de reflexiones teóricas sobre las formas en que el hecho de la diferencia sexual (y cultural) cobra dimensiones de desigualdad implícita y explícita, así como genera un sistema de exclusiones, en el dominio del sentido social del trabajo. De ahí la importancia de incorporar la variable de género y las diferentes configuraciones de lo habitualmente considerado como cultural como categoría analítica, en los estudios sociales y políticos del trabajo, ya que introducir esta categoría puede posibilitar la transformación del concepto de sujeto histórico entendido tradicionalmente sólo como sujeto occidental masculino, y con esto producir una nueva conceptualización de lo social, incorporando la dimensión de la relación entre grupos sociales diferenciados, partiendo de que la relación entre tales grupos no es un hecho natural sino una interacción social construida e incesantemente remodelada, consecuencia y al mismo tiempo motor de la dinámica social. El concepto de diversidad, pues, es una categoría de análisis imprescindible, tanto para articular el de clase, etnia, género, sexualidad, nación o generación, como para permitir la revisión del mundo del trabajo como un conjunto de roles sociales excluyente, así como para trasformar el sistema de pensamiento o de representación que define culturalmente el mundo del trabajo como un sistema de exclusiones.
This article is an ensemble of theoretical reflections on the ways in which sexual (and cultural) differentiation takes on dimensions of implicit and explicit inequality while generating a system of different types of exclusion in the area of the social sense of labour. This makes it important to include the gender variable as well as the various configurations of what is usually considered cultural as an additional category for analysis in social and political studies done on labour. This is because by introducing this category, one can enable a transformation of the historical notion of a subject, understood traditionally only as a Western male, and thus generate a new view of what is social. This new view includes the dimension of the relationship between different social groups based on the notion that the relationship between these groups is not natural but rather a constructed and incessantly remodelled social interaction. It is both a consequence and a driver of social dynamics. Therefore, within the notion of diversity, it is an imperative category of analysis both for articulating class, ethnicity, gender, sexuality, nation or generation, and for enabling the revision of the sphere of labour as one of a set of excluding social roles. It is also an imperative category for analysis in order to transform the system of thought or representation culturally defining the sphere of labour as a system of exclusions.
Collections