Publication:
Comparative analysis of chromatic symbology in advertising. Nike in China and Spain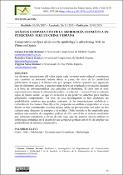 Advisors (or tutors)
Editors
Publisher
Universidad Complutense de Madrid
Abstract
The different perceptions of color according to each socio-cultural context constitute a matter of relevant interest from the point of view of advertising creativity: black & white, for example, means mourn in different cultures and therefore must be used with care in international advertising. Color red is important to catch the western audience eye… but in China it is also perceived as a lucky color, which is by itself a powerful claim for potential customers. Therefore, this piece of research has analyzed the creative possibilities that can derive from the symbolic and cultural connotations of colors. To this end, a comparative analysis has been proposed in the design of which different theories on the perceptions of color have been considered in two very different cultures: European and Asian. This model has been used to analyze a sample of Nike graphic campaigns in order to obtain results that allow us to corroborate, through this case, that large brands use chromatic symbology in the design of their graphic campaigns in order to expand their possibilities of communicative effectiveness.
Las diversas percepciones del color según cada contexto socio-cultural constituyen una cuestión de relevante interés desde el punto de vista de la creatividad publicitaria: el negro y el blanco son, por ejemplo, colores opuestos que significan luto en diferentes culturas, y que por tanto deben ser empleados con mucho cuidado a la hora de internacionalizar una campaña de Marketing. El color rojo es muy importante para llamar la atención del público occidental… pero en China es además signo de buena suerte. Lo que en sí mismo es un poderoso atractivo para muchos potenciales compradores. Por ello, en esta investigación se han analizado las posibilidades creativas que pueden derivarse de las connotaciones simbólicas y culturales de los colores. Para ello se ha propuesto un análisis comparativo en cuyo diseño se han considerado distintas teorías sobre las percepciones del color en dos culturas muy dispares: la europea y la asiática. Dicho modelo se ha empleado para analizar una muestra de campañas gráficas de Nike con el fin de obtener resultados que permitan corroborar, a través de este caso, que las grandes marcas utilizan la simbología cromática en el diseño de sus campañas gráficas con el fin de ampliar sus posibilidades de eficacia comunicativa.
Collections