Publication:
Supercritical fluid extraction of emulsions to nanoencapsulate liquid lipophilic bioactive compounds: process development and scale up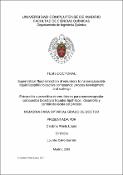 Files
Authors
Advisors (or tutors)
Editors
Publisher
Universidad Complutense de Madrid
Abstract
A wide variety of products containing bioactive compounds have been designed to meet the fundamental needs of society in terms of beauty, health and well-being. Nevertheless, these products do not provide the expected health benefit, because of the low water solubility, low chemical or biochemical stability and the high reactivity of these bioactive compounds, reasons why they lose their biological functionality and bioavailability. Among the different strategies developed to overcome this challenge, biopolymer-based micro- and nanoparticles are the most promising systems to maintain the biological functionality and bioavailability of the bioactive compound and to provide its controlled release in its physiological site of action. A large number of processes exist for obtaining biopolymer-based micro- and nanoparticles. Nonetheless, companies seek rapid and environmentally-friendly production processes that obtain spherical nanoparticles with core-shell structure, controlled particle size distribution and high encapsulation efficiency, which guarantee the health effect. The increasing demand for new products and the drawbacks of the existing processes are causing a steady research for new technological possibilities...
De las múltiples estrategias desarrolladas para superar este reto, las micro- y nanopartículas basadas en biopolímeros constituyen el sistema más prometedor para mantener la funcionalidad biológica y la biodisponibilidad del compuesto bioactivo, así como para proporcionar su liberación controlada en el lugar fisiológico de acción. Existe un gran número de procesos para obtener micro- y nanopartículas basadas en biopolímeros. Sin embargo, las compañías buscan procesos de producción rápidos y respetuosos con el medioambiente que obtengan nanopartículas esféricas con estructura núcleo-carcasa, distribución de tamaño de partícula controlada y alta eficiencia de encapsulación, la cuales garanticen el efecto para la salud. La creciente demanda de nuevos productos y las limitaciones de los procesos existentes están causando un aumento en la búsqueda de nuevas posibilidades tecnológicas...
Description
Tesis de la Universidad Complutense de Madrid, Facultad de Ciencias Químicas, Departamento de Ingeniería Química, leída el 10-07-2017
Collections