Publication:
Sistema de guía por voz en interiores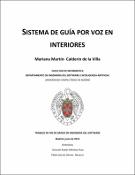 Advisors (or tutors)
Editors
Abstract
En los últimos años se ha producido un incremento del interés académico e industrial en los sistemas de localización para personas y objetos. Este crecimiento queda reflejado en la creación de aplicaciones comerciales, donde se ha recogido un aumento de la demanda en los sistemas de posicionamiento en interiores para las personas. En particular, dichos sistemas de localización en interiores, están teniendo una repercusión muy importante en fábricas, hospitales, grandes almacenes, entornos muy amplios y desconocidos en un primer momento para las personas que necesitan moverse en ellos. Unimos a este crecimiento el incremento mundial en el uso del sistema operativo Android, integrado en la mayoría de los dispositivos móviles de gran parte de la población. Considerando todos estos datos, este proyecto de fin de carrera tiene como fin el diseño y desarrollo de un sistema de guía por voz en interiores. El sistema trata de guiar a un usuario en un escenario provisto de red Wi-Fi. En este caso, se utiliza como escenario, la primera planta de la Facultad de Informática de la Universidad Complutense de Madrid. Mediante el posicionamiento Wi-Fi, el sistema es capaz de captar la posición en la que se encuentra el usuario. Gracias al sistema de voz integrado en la aplicación, el usuario debe indicar a través de él el destino al que desea ir. Una vez queda localizado en el escenario el origen y el destino del usuario, el sistema generará una serie de instrucciones que serán transmitidas por voz al usuario e indicarán la ruta que debe seguir para alcanzar el destino solicitado. El resultado de ese diseño y desarrollo es un sistema formado por tres aplicaciones conectadas entre sí y que en su conjunto son capaces de estimar la posición de un individuo en un entorno cerrado con cobertura Wi-Fi, calcular las rutas y generar las instrucciones necesarias para alcanzar un destino y reproducir la información en un dispositivo gestionado por un sistema operativo Android.
In recent years there has been an increasing academic and industrial interest in localization systems for people and objects. This growth is reflected in the creation of business applications, where it has picked up an increase in demand in indoor positioning systems for people. In particular, such indoor location systems, are having a major impact in factories, hospitals, department stores, very large and unknown environments at first for people who need to move on them. We join this growing global increase in the use of the Android operating system, integrated in most mobile devices much of the population. Considering all these data, this limit project aims to design and develop a voice guidance system indoors. The system tries to guide a user on a stage equipped with Wi-Fi network. In this case, it is used as a backdrop, the first floor of the Faculty of Informatics at the University Complutense of Madrid. Using Wi-Fi positioning, the system is able to capture the position where the user is located. Thanks to the voice built into the application, the user must indicate through it the destination you want to go. Once the stage is located in the origin and destination of the user, the system generates a set of instructions that will be transmitted to the user voice and indicate the path to follow to reach intended destination. The result of that design and development is a system consisting of three interconnected applications and which together are able to estimate the position of an individual in a closed environment with Wi-Fi coverage, calculate routes and generate instructions for reach a destination and reproduce information on a device managed by an operating system Android.
Description
Trabajo de Fin de Grado en Ingeniería del Software (Universidad Complutense, Facultad de Informática, curso 2012/2013)