Publication:
El calor de la teoría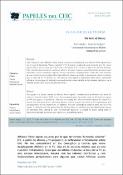 Authors
Advisors (or tutors)
Editors
Publisher
Centro de Estudios sobre la Identidad Colectiva. Universidad del País Vasco
Abstract
Este trabajo es una reflexión crítica sobre la apuesta metateórica que Alfonso Pérez Agote hace por lo que él denomina "teoría caliente" (TC). Empiezo analizando qué entiende por TC, cómo argumenta su preferencia por ella frente a la "teoría fría" y cómo la aplica de manera efectiva. Tras recordar que esta tesis resulta un salto en el vacío respecto a planteamientos previos mejor asentados, paso a cuestionar algunos de sus supuestos e implicaciones. Todo ello, más el hecho de que la practica sociológica del propio Alfonso parece incumplir su propuesta, viene a mostrar que la tesis de la TC resulta ser una excusa innecesaria y perjudicial para quien, queriendo ceñirse a la investigación empírica, no puede evitar tomar partido en los debates teóricos y ve la realidad social como una realidad predefinida.
This paper is a critical review of Alfonso Perez Agote's metatheorical preference for what he refers as "heated theory" (HT). I start by considering what he understands as HT, how he argues for WT and against "cold theory" and how he deploys WT. After remembering that his choice is a shot in the dark form better, previous options, I come to question some of the suppositions and consequences of this movement. In addition, his own sociological practice does not fit in his choice. I conclude that his preference for HT becomes an unnecessary and detrimental excuse for someone that, willing to stick to empirical research, is unable to avoid taking sides in theoretical debates and sees social reality as a predefined reality.
Collections