Publication:
Bases conceptuales y empíricas del nuevo consumidor digital: influencia de internet en el proceso de compra de teléfonos móviles inteligentes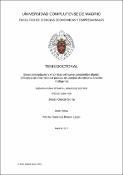 Files
Authors
Advisors (or tutors)
Editors
Publisher
Universidad Complutense de Madrid
Abstract
Internet ha supuesto una revolución para el ser humano, semejante a la producida con el nacimiento de la imprenta, o de la que se produjo en la revolución industrial. Esta revolución tecnológica ha tenido un impacto tan evidente y profundo, que ha alcanzado a todos los ámbitos del ser humano, y como no podía ser de otra manera, por supuesto también, a sus procesos de compra. Estas son las razones que han motivado realizar esta investigación, sobre la influencia de Internet en el proceso de compra, y en concreto en el proceso de búsqueda de información y evaluación de alternativas. Síntesis de la Tesis: El objetivo general es corroborar que el modelo de comportamiento del consumidor ha sufrido grandes cambios por la irrupción de Internet en el proceso de compra, habiendo cambiado sobre todo el proceso de búsqueda de información y evaluación de alternativas. Para determinar tal punto, se desarrolla un modelo conceptual basándonos en la literatura y en una serie de hipótesis, que pretende llevar a validar el objetivo general antes definido. Por ello, como objetivos particulares que nos deben llevar a contrastar el objetivo general, vamos a trabajar sobre los siguientes puntos:  Internet ha provocado que una gran parte de los procesos de compra comiencen en Internet, como lugar de búsqueda de información. Corroborar este hecho, será el primer objetivo particular que esta tesis quiere analizar.  Consecuencia del hecho anterior, Internet parece proporcionar a los consumidores más y mejor información sobre los productos y servicios, cuando tienen necesidad de informarse para realizar una compra, que los medios que podemos llamar tradicionales u offline. Corroborar esta afirmación, será un segundo objetivo particular de nuestra investigación...
Internet has been a revolution for human being, similar to the produced with the birth of the printing, or the industrial revolution. This technological revolution has produced such a deep impact, that it has achieved to all the human being scope, and how also of course, to their buying process. These are some of the reasons that have motivated to carry out with this research about the influence of Internet on the buying process, and specifically on the information search process and the alternatives evaluation. Thesis Synthesis: The general objective is to corroborate that the consumer behaviour model has experienced big changes because the entry of Internet in the buying process, specially because all the information searching and alternatives evaluation have changed. To establish this point, we have developed a conceptual model, based on literature and on a succession of hypothesis, which want to validate the general objective before described. For this reason, the individual objectives which will help us to corroborated the general objectives, we will work with the following point:  Internet has produced, that a large part of buying process begin on Internet, as site to search for information. To corroborate this point will be the first individual objective that this thesis wants to analyse.  Due to the fact before explained, Internet seems to give consumers more and better information about produces and services, when they need to inform themselves to do a purchase, than the traditional media or offline media. To corroborate this asseveration, will be the second individual objective for our research...
Description
Tesis inédita de la Universidad Complutense de Madrid, Facultad de Ciencias Económicas y Empresariales, leída el 30/11/2015
Collections