Publication:
Moda y confusión de los masters: Un análisis de los masters en administración de empresas.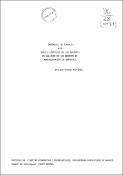 Files
Authors
Advisors (or tutors)
Editors
Publisher
Facultad de Ciencias Económicas y Empresariales. Decanato
Abstract
En este trabajo se contempla la aparición de la formación de segundo ciclo en España conocida también bajo la denominación anglosajona de master, recogiéndose casi trescientos programas distintos existentes en la actualidad. Después de hacer algunas consideraciones sobre el master más generalizado en los Estados Unidos, el M.B.A. o Master in Business Administration, el autor realiza un análisis empírico sobre la situación de este master en España, con especificación de las entidades que los imparten, duración, coste de mismos y condiciones de admisión. El trabajo concluye sobre la necesidad de una mayor claridad en este tipo de enseñanza y la conveniencia de crear programas flexibles adecuados a las necesidades reales de sus usuarios y de las empresas. Solamente así podrá hablarse bien de las Escuelas de Negocios y no de los negocios de las escuelas.
This work contemplates the appearance 01 second-cycle training in Sapin known also by the denomination "Anglo-Saxon Master", embracing almost three hundred different and presently available programmes. After considering the most widely available Master's degrees, MBA or Master in Business Administration in the USA, the author effects an empiric analysis of the situation of the Master's in Business Administration in Spain that includes the specilications of the entities offering these, their duration, costs and conditions of admittance. The work ends on the necessity for a greater clarity in this type of teaching and on the desirability of creating flexible programmes adequate to the real needs of its users and companies. Only with this, could we speak favourably of the Business Schools instead of the business of shool.
Citation
Banco Bilbao-Vizcaya, (1991) Informe sobre los estudios de post-grado en España, 856 páginas. Business Week (1988) The Best B-Schools, 28 Noviembre 1988, pág. 75. Business Week (1988) Where the Schools aren't doing their homework, 28 noviembre 1988, pág. 84. Dentschman, Aban (1990) "The Trouble with M.B.As", Fortune, 29 Julio 1990, pág. 119-127. Rojas, Lola y López, Pedro M. (1990) Ciencias Económicas y Empresariales. Estudios y Salidas profesionales, Ariel, Barcelona 1990, pág. 90-91. Carazo, José A., "La Formación Residencial llega a España", Mercado, nº 489, 20 mayo 1991, pág. 31. Gutierrez, Juan Antonio. "El Reto de la Especialización", Muface, nº 125, Marzo 1991, pág. 31. Rojas, Lola y López, Pedro M., Op. cit. pág. 84. Coulange, Jean-Paul. "Ecoles de Commerce: Des Diplômes par Milliers", Le Nouvel Economiste, nº 787, 15 Marzo 1991, pág. 58-59. Byrne, John A., "It's so hard to keep good professors nowadays", Business Week, 28 Noviembre 1988, pág. 89. Bustos, Valentín, "La Cámara forma gestores de empresa para el mercado único", Comercio e Industria, Octubre 1991, pág. 5.