Publication:
Alteraciones específicas de la escultura en piedra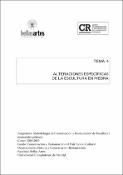 Authors
Advisors (or tutors)
Editors
Abstract
Este tema, impartido en tercer curso del grado de Conservación y Restauración del Patrimonio Cultural de la UCM, describe las principales alteraciones de las esculturas en piedra, que pueden ser de tipo físico, a consecuencia de factores térmicos, hídricos, eólicos o de cristalización de sales; de tipo químico, como la disolución, hidratación, hidrólisis y la provocada por contaminantes atmosféricos; y de tipo biológico (bacterias, algas, hongos, líquenes, musgos, etc.).
This class, taught in the third year of the degree of Conservation and Restoration of Cultural Heritage of the UCM, describes the main alterations of stone sculptures, which can be physical, as a result of thermal, water, wind or crystallization factors; of chemical type, such as dissolution, hydration, hydrolysis and those caused by air pollutants; and of biological type (bacteria, algae, fungi, lichens, mosses, etc.).