Publication:
Fernando Soria (1860-1934): compositor, crítico y pedagogo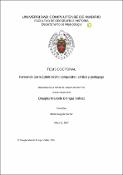 Files
Authors
Advisors (or tutors)
Editors
Publisher
Universidad Complutense de Madrid
Abstract
La presente tesis doctoral trata sobre el músico Fernando Soria Cárpena (1860- 1934), compositor, pianista, maestro y crítico musical con una abundante obra creativa realizada en el último tercio del siglo XIX mexicano, la cual ha sido relegada al olvido durante todo el siglo XX. Este trabajo pretende recuperar su labor artística, educativa y colocar la música recolectada bajo la mirada de las nuevas generaciones de estudiosos, músicos y del público en general para acercarnos al gusto musical del período porfirista, revalorar su capacidad expresiva y reconocer un legado que se extendió hasta el siglo XXI que no se había investigado. El trabajo se divide en tres secciones: la primera trata la vida del artista y su desarrollo como compositor, maestro y crítico musical en el contexto de su época; una segunda sección está dedicada a su producción musical, analizándola desde diferentes perspectivas, una histórico-teórica y otra desde su condición de intérprete y pedagogo, para lo cual se ha recurrido a grabar gran parte de la música y a enseñar a jóvenes músicos su interpretación. Debido a la amplitud de los intereses artísticos del compositor, en el trabajo se resaltan las coincidencias existentes entre su producción musical y crítica con ciertos aspectos de los movimientos literarios coetáneos en boga en Iberoamérica. Una tercera sección está constituida por el catálogo de su obra compositiva recuperada de archivos personales, bibliotecas especializadas, museos y en el Archivo General de la Nación, diseminada por diversos estados de México. Este catálogo incluye lo que al parecer es casi la tercera parte de la producción total de Fernando Soria. Se adjuntan a la investigación dos anexos: el primero está conformado por los artículos publicados por Soria a lo largo de su vida en diferentes periódicos y revistas, parte de ellos transcritos directamente de periódicos de 1920-22 en mal estado de conservación; el segundo incluye grabaciones de parte de su obra para piano, interpretadas por profesores de la Escuela de Música de la Universidad de Ciencias y Artes de Chiapas y por el autor de esta investigación...
This thesis deals with the musician Fernando Soria Cárpena (1860-1934), composer, pianist, teacher and music critic, whose rich, creative work produced in the last third of the nineteenth century Mexico has been relegated to oblivion during all of the twentieth century. This thesis intends to recover his artistic, educational work and place the music gathered under the eyes of new generations of scholars, musicians and the general public to approach the musical taste of Diaz's period, reassess its expressive capacity and recognize the origin of a legacy which lasted until the twenty-first century and which had not been investigated. The work is divided into three sections; first, the artist's life and his development as a composer, teacher and music critic. The second section is dedicated to his musical production, analyzing it from different perspectives: the historical-theoretical one, also from the interpreter and teacher point of view for which much of his music has been recorded and taught to young musicians. Because of the breadth of the composer's interests, emphasis is made on the coincidences between his musical production and some critical aspects of contemporary literary movements in vogue in Latin America. The third section is the catalog of his compositional work recovered from personal archives, specialized libraries, museums and the Nation's General, disseminated through various states of Mexico. This catalog relates what appears to be almost a third of the total production of Fernando Soria. This thesis has two Appendices; the first one includes some articles published by Soria along his life in various newspapers and magazines; transcribed in some cases directly from 1920 to 1922 newspapers in poor condition; the second one includes recordings of his piano works played by professors of the School of Music of the University of Science and Arts of Chiapas and the author of this research...
Description
Tesis inédita de la Universidad Complutense de Madrid, Facultad de Geografía e Historia, Departamento de Musicología, leída el 03-02-2016
Collections