Publication:
Estudiando la sequía: una experiencia para el aula de informática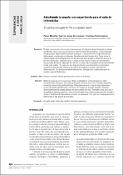 Advisors (or tutors)
Editors
Publisher
Asociación Española para la Enseñanza de las Ciencias de la Tierra
Abstract
El agua es un recurso tan escaso como necesario. En regiones donde imperan los climas semiáridos, como es el caso de la mayor parte de la Península Ibérica, la disponibilidad de agua puede estar condicionada por la sequía. El estudio de este riesgo natural está íntimamente relacionado con diversas disciplinas de las Ciencias de la Tierra, como la meteorología o la hidrología. Este artículo describe paso a paso la aplicación de una de las muchas técnicas existentes para el estudio de la sequía: la curva de desviaciones acumuladas. El alumno descarga de internet los datos de precipitación de la ciudad donde reside y los analiza con ayuda de una hoja de cálculo, caracterizando las principales sequías con perspectiva histórica. Por último se proponen diversos ejercicios de interpretación. Con las oportunas modificaciones, este ejercicio es adecuado para un amplio rango de titulaciones.
Water is as scarce as it is necessary. Water availability in semiarid regions is often constrained by droughts. The study of droughts pertains to several scientific disciplines, including meteorology and hydrology. This paper presents a step-by-step description of the cumulative rainfall curve, a common technique for drought analysis. Students download historical rainfall data for the town where they live. Thereafter, they carry out a spreadsheet-based analysis to characterize drought from a historical perspective. Finally, a series of additional interpretation exercises are proposed. This exercise is appropriate for a wide range of age groups and courses.
Collections