Publication:
Study and evaluation of several cache replacement policies on a commercial MIPS Processor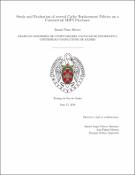 Authors
Advisors (or tutors)
Editors
Abstract
Actualmente, el rendimiento de los computadores es un tema candente. Existen importantes limitaciones físicas y tecnológicas en los semiconductores de hoy en día, por lo que se realiza un gran esfuerzo desde las universidades y la industria para garantizar la continuidad de la ley de Moore. Este proyecto está centrado en el estudio de la cache y la jerarquía de memoria, uno de los grandes temas en la materia. Para ello, hemos escogido MIPSfpga, una plataforma hardware abierta de Imagination Technologies, lo que nos ha permitido implementar y testear diferentes políticas de reemplazamiento como prueba de concepto, demostrando, además, las bondades de la plataforma.
Computer performance is a hot topic today. With the technological and physical limitations in semiconductors to solve, a lot of effort is put from universities and industries trying to bring new architecture improvements to keep the Moore's law rolling. In this project, we aim to study caches and memory hierarchy, one of the big topics in computer performance. For that, we have chosen MIPSfpga, an open hardware platform from Imagination Technologies, which allowed us to implement and test different cache replacement policies as a prove of concept and to show the possibilities of the platform.
Description
Trabajo de Fin de Grado en Ingeniería de Computadores (Universidad Complutense, Facultad de Informática, curso 2015/2016)