Publication:
Los diques básicos del Edificio volcánico principal de la isla de São Vicente (Cabo Verde)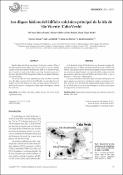 Authors
Hernán Reguera, Francisco
Advisors (or tutors)
Editors
Publisher
Sociedad Geológica de España
Abstract
En la isla de São Vicente (Cabo Verde) son muy frecuentes los diques básicos que atraviesan el edificio volcánico principal de la isla: el Edificio São Vicente. Éstos aparecen en dos enjambres principales: sills que se concentran en los niveles estratigráficamente más bajos del edificio y diques verticales que encajan en todos los niveles del Edificio São Vicente Inferior y que no atraviesan el Edificio São Vicente Superior. Los diques verticales se distribuyen según una pauta radial general, a la que se superpone una pauta en estrella de tres puntas, y convergen en el interior de la isla, al sur de la bahía de Mindelo, donde estaba situado el centro del edificio volcánico. El centro de convergencia de diques pudo emigrar a lo largo del tiempo hacia el sureste.
the island, the São Vicente Edifice. They can be arranged in two main systems: a system of sills concentrated in the lowermost levels of the edifice and a system of vertical or nearly vertical dikes crosscutting the entire sequence of the Lower São Vicente Edifice though these dikes are interrupted in the Upper São Vicente Edifice. The vertical dikes form two superimposed radial and three-armed patterns. The dikes converge inland south of Mindelo, an area where the main eruptive centre of the volcano must also have been situated. The centre inferred by the maximum convergence of dikes might have migrated towards the south-eas.
Collections