Publication:
Evaluación y cuantificación del efecto sedante y de las alteraciones del patrón locomotor medidas mediante acelerometría de los alfa 2-adrenérgicos a dosis bajas en caballos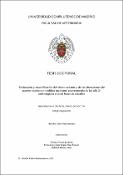 Files
Authors
Advisors (or tutors)
Editors
Publisher
Universidad Complutense de Madrid
Abstract
Los agonistas de los receptores α2-adrenérgicos son fármacos ampliamente utilizados en clínica veterinaria y equina. Se caracterizan por su efecto sedante y también producen analgesia y relajación muscular. Además, producen otra serie de efectos como la incoordinación y depresión cardiovascular y respiratoria. Todos estos efectos, tanto los deseados como los indeseados, son dosis-dependientes. El objetivo del presente estudio fue evaluar, los efectos sedantes, así como los efectos sobre el patrón locomotor. Se cuantificó mediante mediciones la sedación y, mediante acelerometría, los cambios en el movimiento. Los fármacos de este grupo, más utilizados en clínica veterinaria (xilacina, detomidina, romifidina, medetomidina y dexmedetomidina) fueron evaluados a dosis bajas en este estudio. Se utilizaron 6 caballos adultos de entre 5 y 19 años (4 castrados, 1 hembra y 1 semental). A todos los caballos se les administraron por vía intravenosa (IV) 6 sustancias diferentes: solución control (NaCl al 0,9%), xilacina (0,125mg/kg), detomidina (0,003mg/kg), romifidina (0,01mg/kg), medetomidina (0,00125mg/kg) y dexmedetomidina (0,001 mg/kg), con un periodo de al menos 1 semana de intervalo entre tratamientos. Para el análisis del patrón locomotor se utilizó un acelerómetro triaxial (Equimetrix®), con el que se obtienen datos objetivos del patrón locomotor. Las mediciones se realizaron 10 minutos antes de la inyección IV de la sustancia a evaluar (obteniéndose así el valor basal) y a los 10, 20, 30, 40, 50 y 60 minutos posteriores...
The α2-adrenergic receptor agonists are drugs widely used in veterinary and equine clinics. They are characterized by their sedative effect and also produce analgesia and muscle relaxation. In addition, they produce a number of other effects such as incoordination and cardiovascular and respiratory depression. All these effects, both desired and undesired, are dose-dependent.The aim of the present study was to evaluate the sedative effects as well as the effects on the locomotor pattern. Sedation was quantified by measurements and, by accelerometry, the changes in movement. The drugs of this group, most commonly used in veterinary clinic (xylazine, detomidine, romifidine, medetomidine and dexmedetomidine) were evaluated at low doses in this study. Six adult horses aged 5 to 19 years (4 geldings, 1 female and 1 stallion) were used. All horses were administered intravenously (IV) 6 different substances: control solution (0.9% NaCl), xylazine (0.125mg/kg), detomidine (0.003mg/kg), romifidine (0.01mg/kg), medetomidine (0.00125mg/kg) and dexmedetomidine (0.001 mg/kg), with a period of at least 1 week interval between treatments. A triaxial accelerometer (Equimetrix®) was used for the analysis of the locomotor pattern, with which objective data of the locomotor pattern are obtained. The measurements were taken 10 minutes before the IV injection of the substance to be evaluated (thus obtaining the basal value) and at 10, 20, 30, 40, 50 and 60 minutes later...
Description
Tesis inédita de la Universidad Complutense de Madrid, Facultad de Veterinaria, Departamento de Medicina y Cirugía Animal, leída el 27/06/2022
Collections