Publication:
Algoritmos, aplicaciones y Big data, nuevos paradigmas en el proceso de comunicación y de enseñanza-aprendizaje del periodismo de datos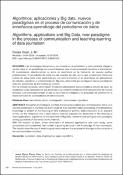 Advisors (or tutors)
Editors
Abstract
Las tecnologías disruptivas y su impacto en el periodismo y comunicación obligan a asumir retos en el aprendizaje de nuevas técnicas para el procesamiento de datos e información. El conocimiento interdisciplinar se pone de manifiesto en la formación de nuevos perfiles profesionales. El periodismo de datos es una muestra de ello, por lo que la inmersión hacia una cultura de datos debe estar precedida por una concienciación en el aprendizaje de aplicaciones de noticias, algoritmos o el tratamiento del Big data, elementos que configuran nuevos paradigmas entre los periodistas de los medios en Internet. Con la revisión de textos, observación directa de aplicaciones seleccionadas y estudio de caso, se establecen unas conclusiones que encierran una creciente demanda en el conocimiento de nuevas técnicas. Los resultados arrojan el uso de recursos tecnológicos y la propuesta de cambios en la malla curricular de las facultades de comunicación.
Disruptive technologies and their impact on journalism and communication force us to assume challenges in learning new techniques for data and information processing. Interdisciplinary knowledge is evident in the teaching of new professional profiles. Data journalism is an example of this, so the immersion into a data culture must be preceded by awareness in the learning of news applications, algorithms or the treatment of Big Data, elements that configure new paradigms among journalists of the media on the Internet. With the revision of texts, direct observation of selected applications and case study, some conclusions are established that contain a growing demand in the knowledge of new techniques. The results show the use of technological resources and the proposal of changes in the curricula of the communication faculties.
Collections