Publication:
Creación de empresas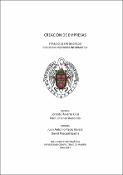 Advisors (or tutors)
Editors
Abstract
La aportación de la informática a la sociedad actual se ha consolidado y encontramos día a día nuevas aplicaciones que aportan valor a las empresas o que simplemente nos ayudan en un acto cotidiano como el de hacer la compra. En nuestro caso, hemos llevado a cabo la realización de un prototipo de aplicación móvil para iOS y Android consistente en la publicación y consulta de ofertas de ocio y hostelería en tiempo real basadas en geolocalización. En esta memoria se describe el trabajo realizado, el plan de negocio relativo al proyecto, las funcionalidades de la aplicación, las tecnologías empleadas, la arquitectura del sistema, el diseño del prototipo, su implementación, las conclusiones a las que se ha llegado y el trabajo futuro a realizar en el proyecto.
Nowadays IT contributes in an outstanding way to the global and social development. The continuous emergence of apps has transformed the contemporaneous lifestyle, most times making things much easier by simplifying our daily habits, such as shopping. Our project presents an app prototype designed for iOS and Android that publish an accurate offer of leisure and hospitality sector activities. It is updated in real time and the offers published are based on geo-location. This memory describes the research done and it includes the business plan of the project, as well as the features of the app, the technologies used to develop it, its system architecture, a prototype design and also its implementation. This project includes an analysis of conclusions and a complete proposal of future improvements and further development.
Description
Trabajo de Fin de Grado en Ingeniería Informática (Universidad Complutense, Facultad de Informática, curso 2016/2017)