Publication:
Estudio en planta piloto de la captura e hidrogenación a combustibles de CO₂ promovidas electroquímicamente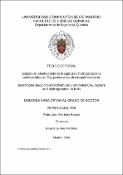 Files
Authors
Advisors (or tutors)
Editors
Publisher
Universidad Complutense de Madrid
Abstract
El crecimiento de los niveles atmosféricos de CO2 resultante principalmente de la combustión de combustibles fósiles y el calentamiento global asociados, hacen necesario el desarrollo de nuevos sistemas más eficientes y de menor consumo energético que permitan separar selectivamente el CO2. La valorización de CO2 a combustibles se contempla como una estrategia complementaria para reducir emisiones de CO2, permitiendo su reciclado y un uso más sostenible de los recursos energéticos. La utilización de la promoción electroquímica de la catálisis se presenta como una opción novedosa para mejorar la eficiencia y selectividad de las tecnologías convencionales tanto de captura por adsorción, como de valorización por hidrogenación catalítica a combustibles de CO2. La aplicación de pequeños potenciales entre un catalizador (electrodo de trabajo) que está en contacto con un electrolito sólido y un contra-electrodo (Au) resulta en el movimiento de especies promotoras hacia (o desde) la superficie del catalizador, mejorando tanto la capacidad de quimisorción selectiva de la especie de interés (CO2), como la velocidad de reacción (de hidrogenación de CO2), actividad y selectividad del catalizador hacia el producto (combustible) deseado. Ambos procesos habían sido poco estudiados y casi exclusivamente a escala de laboratorio, existiendo aspectos prácticos no investigados en suficiente detalle. Por tanto, el objetivo principal de esta Tesis es el desarrollo de nuevos sistemas electrocatalíticos y el estudio a escala de planta piloto de la aplicación de la promoción electroquímica de la catálisis tanto a la captura de CO2 por adsorción, como a la valorización de CO2 por hidrogenación a combustibles. Los objetivos particulares son: el desarrollo de electrocatalizadores y optimización de los procedimientos de preparación de los mismos, la identificación del electrocatalizador y los parámetros de operación más apropiados tanto para la captura de CO2, como para la hidrogenación de CO2 a combustibles, el estudio de la tolerancia a inhibidores y venenos del electrocatalizador más prometedor para captura de CO2, el estudio de la estabilidad y durabilidad del electrocatalizador más promisorio para hidrogenación de CO2 y la identificación de los fenómenos de desactivación potencial...
The growth of CO2 atmospheric levels resulting mainly from fossil fuel combustion and the concomitant global warning, make necessary the development of new, more efficient and less-energy intensive systems which allow selectively separate CO2. Valorisation of CO2 to fuels is viewed as a complementary strategy for reducing CO2 emissions, allowing their recycling and, therefore, a more sustainable use of the energy resources. The use of electrochemical promotion of catalysis (EPOC) is presented as a novel option to improve efficiency and selectivity of conventional technologies for both CO2 capture by adsorption and CO2 valorisation by catalytic hydrogenation to fuels. The application of small potentials between a catalyst (working electrode) which is in contact with a solid electrolyte and a counter-electrode (Au) results in the moving of promoting species to (or from) the catalyst surface, improving both capacity of selective chemisorption of the species of interest (CO2) and reaction rate (for CO2 hydrogenation), activity and selectivity of the catalyst to the desired product (fuel). Both processes had been little studied and almost exclusively at laboratory scale, so there are practical aspects not investigated in sufficient detail. Therefore, the main objective of this thesis is the development of new electrocatalytic systems and the study, at bench scale, of the application of electrochemical promotion of catalysis to both CO2 capture by adsorption and CO2 valorisation by hydrogenation to fuels. The specific objectives are: development of electrocatalysts and optimization of their preparation procedures, identification of the most appropriate electrocatalyst and operation parameters for both CO2 capture and hydrogenation to fuels, study of the tolerance to inhibitors and poisons of the most promising electrocatalyst for CO2 capture, study of the stability and durability of the most promising electrocatalyst for CO2 hydrogenation and identification of potential deactivation phenomena...
Description
Tesis inédita de la Universidad Complutense de Madrid, Facultad de Ciencias Químicas, Departamento de Ingeniería Química, leída el 20-06-2017
Collections