Publication:
Componer las ciudades. Instrucciones de uso para un urbanismo de vecindad. Más allá de la participación en el diseño urbano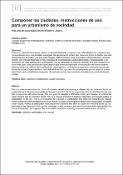 Advisors (or tutors)
Editors
Abstract
Este es un manual instrucciones para un urbanismo destinado componer una ciudad distinta. Un urbanismo que no se entiende como una disciplina encargada del planeamiento urbano sino como una forma de habitar que está concernida con la ciudad. Una guía para navegar el difícil itinerario entre un presente urbano infausto y un futuro incierto. Una manual destinado a instruir políticas de la participación urbana desafiantes y esperanzadas. Una invocación por unas políticas de la participación que no reinscriben el presente conocido sino que componen un futuro más justo, unas políticas de la participación que se encaminan hacia la composición de futuros urbanos esperanzados. Las políticas de la participación deben generar condiciones que permiten componer nuevas versiones de ciudad. Experimentos en la ciudalidad de la urbe, que nos ofrecen preguntas que no teníamos y alumbran futuros que no habíamos imaginado. Un modesto manual para versionar la ciudad en su condición experimental.
This is a manual instructions for a form of urbanism aimed at composing a different city. An urbanism that is not understood as a discipline responsible for the planning of the city but as a particular form of inhabiting the city, one that is concerned with urban issues. This is a guide to navigate a difficult line that goes between an unfortunate urban present and an uncertain future. This is a manual intended to instruct challenging and hopeful politics of participation in the city. This is an invocation for a politics of participation that does not reinscribe the already known present but that composes a more just future. A politics of participation aimed at the composition of hopeful urban futures. Politics of participation must create the conditions that allow to create new versions of the city. Experiments in the citynness of the city that challenge us with questions that we did not have while sheding light into futures that we had not imagined. This is a modest manual for producing an experimental version of the city.
Collections