Publication:
Past climate studies with optimized networks using artificial intelligence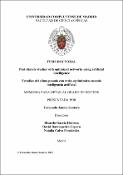 Files
Authors
Advisors (or tutors)
Editors
Publisher
Universidad Complutense de Madrid
Abstract
The availability of high-quality climate records decreases backwards in time, and the associated increase in uncertainty supports the use of complementary sources of climate information (such as model simulations) to understand the underlying physics of the climate system, as well as its past and futurechanges. In this Ph.D. thesis we assess the potential of Artificial Intelligence as an additional efficient tool to solve complex problems in the field of climate sciences. We show that these techniques can optimize the informationcoming from different sets of climate networks such as meteorological stations, historical records, and paleoclimate archives. Being employed to address a plethora of questions, they share issues in terms of incompleteness. Within this framework, we address different problems that are common in the climate community by developing tailored methodologies with the same goal of maximizing the extraction of information from incomplete climate datasets. The developed approaches include metaheuristic algorithms and cluster analyses and will be applied to incomplete datasets that are typically employed for paleo-climate reconstructions and regional climate assessments, respectively...
La disponibilidad de datos climáticos decrece exponencialmente a medida que retrocedemos en el tiempo, siendo muchas veces necesario el uso de fuentes complementarias de información (como las simulaciones de modelos de circulación general) para comprender la física subyacente del sistema climático, así como sus cambios pasados y futuros. En esta tesis doctoral evaluamos el potencial de la Inteligencia Artificial como una herramienta eficiente que se puede usar para resolver problemas complejos en la ciencia del clima. Mostramos como estas técnicas pueden maximizar la información proveniente de diferentes conjuntos de redes climáticas, como estaciones meteorológicas, registros históricos y proxies paleoclimáticos. Todos ellos comparten un problema similar: son datos incompletos que proporcionan información por un periodo de tiempo limitado. Por lo tanto, hemos abordado diferentes problemas cuyo objetivo común es maximizar la extracción de información de conjuntos de datos incompletos. Los métodos desarrollados incluyen algoritmos metaheurísticos y análisis de conglomerados...
Description
Tesis inédita de la Universidad Complutense de Madrid, Facultad de Ciencias Físicas, leída el 12-07-2021
Collections