Publication:
Cambios en la potencia refractiva total corneal tras la inserción de anillos intraestomales en pacientes con queratocono a corto, medio y largo plazo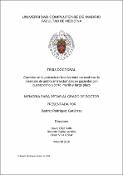 Files
Authors
Advisors (or tutors)
Editors
Publisher
Universidad Complutense de Madrid
Abstract
El queratocono es una patología ectásica corneal crónica, progresiva y normalmente asimétrica. Comienza en la pubertad y generalmente se observa una mayor progresión en la segunda o tercera década de la vida. Cursa con modificación de la curvatura, causando en mayor o menor medida un astigmatismo irregular, miopía y protusión corneal que provoca una disminución de la calidad visual.El tratamiento quirúrgico del queratocono con la implantación de segmentos intraestromales corneales es una cirugía aditiva, reversible, segura y eficaz. Pretende regularizar la curvatura corneal, disminuir el error refractivo y el astigmatismo inducido y mejorar así la calidad visual de los pacientes. Puede retrasar o incluso en algunos casos evitar la realización de trasplante de córnea.Los efectos de los segmentos intraestromales corneales se basan en la "Ley de espesores" de Barraquer y postulados de Blavatskaya. La adición de un tejido en la periferia de la córnea provoca un aplanamiento de la zona central de la misma, teniendo una relación directa con el espesor e inversa con su diámetro.Con el tomógrafo Pentacam®, basado en mediciones por elevación, se obtienen valores topográficos y paquimétricos de las superficies anterior y posterior de la córnea. También se pueden calcular las aberraciones en ambas superficies corneales y otros valores del segmento anterior...
Keratoconus is a chronic, ectasic and progressive corneal pathology, usually asymmetric. It begins in puberty and generally a greater progression is observed in the second or third decade of life. It courses with curvature modification, causing, to a greater or lesser extent, an irregular astigmatism, myopia and corneal protrusion that causes decrease in visual quality.The surgical treatment of keratoconus with the implantation of corneal intrastromal segments is an additive, reversible, safe and effective surgery. It aims to level corneal curvature, decrease refractive error and induced astigmatism and thus improve the visual quality of patients. It can delay or even in some cases spare corneal transplantation.The effects of the corneal intrastromal segments are based on Barraquer's "Thickness law " and the Postulates of Blavatskaya. The addition of tissue in the periphery of the cornea causes a flattening of its central area, holding a direct relationship with its thickness and inverse with its diameter.With the Pentacam® tomograph, based on elevation measurements, topographic and pachymetric values of the anterior and posterior surface of the cornea are obtained. Aberrations can also be calculated on both corneal surfaces and other values of the anterior segment...
Description
Tesis de la Universidad Complutense de Madrid, Facultad de Medicina, leída el 20-12-2018
Collections