Publication:
La transferencia de imágenes electrográficas en la práctica artística contemporánea y su conservación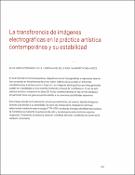 Advisors (or tutors)
Editors
Publisher
Museo Nacional Reina Sofía- Grupo Español de de Conservación
Abstract
Actualmente, una gran parte de las colecciones de diseño industrial contemporáneo incluyen multitud de piezas fabricadas en materiales plásticos. Estos objetos plantean una problemática específica en cuanto a su identificación material. Por otra parte, imprescindible para la elección adecuada de los tratamientos de conservación restauración. En este trabajo se aborda la problemática asociada a la identificación de este tipo de materiales, a partir de diversos ejemplos, todos ellos relacionados con el estudio de objetos de diseño industrial contemporáneo fabricados en plástico. Se detallan los principales parámetros a considerar para resolver estas situaciones atendiendo al estudio de las pieza y su tecnología, características físicas, deterioros, marcas comerciales y de patente, etc. Estos resultados previos se completan con los obtenidos mediante el empleo de la espectroscopia FTIR, técnica analítica que puede aportar interesantes datos en la identificación tanto del polímero como de otros importantes aditivos o cargas presentes en su composición. Conservar el diseño industrial contemporáneo: problemas prácticos en la identificación de piezas de plástico.
In the field of Contemporary Art, devices such as photocopiers and laser printers have become first-rate artistic tools. In addition to its use in different artistic manifestations, the electrographic images generated by them can be transferred to other artistic media through transfer processes. The use of this artistic practice, initiated in the 60s, has been increasing in recent decades and currently has a great projection due to its enormous expressive possibilities. This work addresses the fundamentals of this artistic practice, as well as the study of some parameters that affect its stability. It is based on the analysis of the composition of the selected toner performed by FTIR spectroscopy and the transfer test is addressed by dissolution and temperature on different receiving supports, the study of the range of optimal transfer temperatures, and the chromatic variation of the toner transferred by ultraviolet radiation action.
Collections