Publication:
La reflexión de J. L. Pinillos sobre la conciencia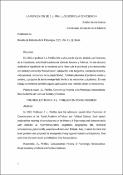 Authors
Advisors (or tutors)
Editors
Publisher
Sociedad Española de Historia de la Psicología y Colegio de Psicólogos de Madrid
Abstract
En 1983, el profesor J. L. Pinillos leía su discurso de ingreso, titulado Las Funciones de la Conciencia, en la Real Academia de Ciencias Morales y Políticas. En este discurso analizaba el significado de la conciencia en la historia de la psicología y la caracterizaba con atributos como hiperformalización, adaptación, vida biográfica, conciencia histórica, vida personal, conciencia de la propia finitud. También planteaba el problema mente y cerebro, y proponía la teoría emergentista frente a los monismos y dualismos. En este trabajo comentamos también algunas aportaciones más recientes desde la neurociencia. Palabras clave: J.L. Pinillos. Conciencia. Historia de la Psicología. Neurociencia.
In 1983, Professor J. L. Pinillos read his admission speech titled Functions of Consciousness at the Royal Academy of Moral and Political Science. Such speech analyzed the meaning of consciousness in the History of Psychology and characterized it with atributes as hyperformalization, adaptation, biographical life, historical consciousness, personal life, awareness of one's own finitude. Also, it raised the mind and brain problem and proposed the emergentist theory against monisms and dualisms. That work treat the most recent contributions from Neuroscience.
Collections